AJ vs Fury, who will be Undisputed? 
Tyson Fury claimed the WBC heavyweight title with a convincing victory over Deontay Wilder at the weekend, ensuring that all of the division's belts are held by Britain's top two heavyweights.
But who would win if they met in an undisputed fight for all the marbles? JD crunched the numbers to find out who would be favourite!
Overall record
Since turning pro in 2008, Fury has stepped into the ring 31 times over his 12-year career.  AJ, who made his professional debut five years later in 2013, has fought just seven fewer fights.
In the professional ranks, both boxers are tied on 21 knockouts, but given AJ has fewer pro fights, his knockout record betters Fury with an 87.5% KO rate to 67.7%.
Knockouts by round
If AJ is to take the W, expect him to do so early on. The two-time world champ has 16 KOs in the opening three rounds of his fights so far, with an astonishing 76% of his matchups being closed out in the first quarter.
Joshua's most lethal round is the second, where he's finished off eight opponents!
For Fury, who has a lower KO percentage, it's the fifth round where he is most prolific, having taken out four fighters at that stage.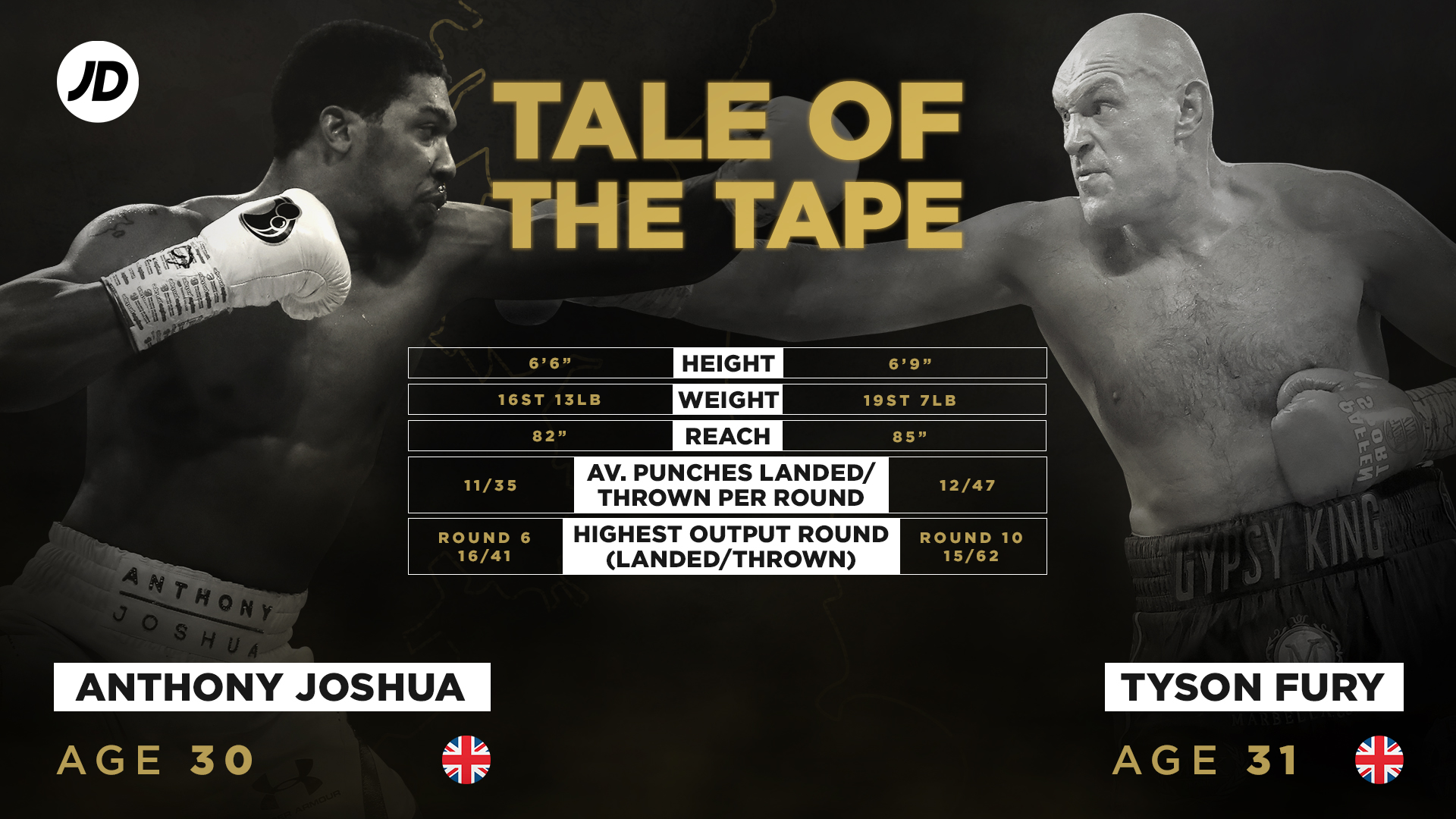 Average punches per round (last 5 fights)
On average, it's Tyson who throws and lands more punches per round. The Gypsy King typically throws an impressive 47 punches in a round, with the fighter landing just under a quarter of them (12). If you're in the ring with him, you're getting hit, on average, every 15 seconds.
Joshua, on the other hand, lands just one less punch than Fury, on average, with 11 in a typical round of his. That's from 35 attempted hits to his opponent, meaning his success ratio is slightly better than his potential challenger, at 31%.
Highest output round – most punches thrown + landed (last 5 fights)
Perhaps analysing the two competitors' highest output round could be key (their most 'aggressive' round with their highest punches thrown and landed). Using this metric, it could be round 6 when AJ bests Fury. 
In AJ's 'strongest' round, he lands 16 punches from 41 thrown – a success rate of 39% which would equate to landing one punch every 11 seconds!
Fury's highest output round is the 10th, where he throws an impressive 62 jabs, hitting his intended target with 24% of those shots (15).
Could that one extra punch be the one that crowns AJ the winner?
Conclusion
In the early stages of the fight, JD's unified champion AJ holds the advantage, whereas Fury appears to enjoy a more drawn out fight and will look to take Joshua into the later rounds. 
Destined to be the biggest fight in British boxing history, if the two camps can agree on a fight whilst holding all of the belts, the real winner will be the sport of boxing.
Data from Boxrec and Wikipedia
Link to punch data methodology
Who do you think would win? Vote below!
Next Article
JD WOMEN | June 20, 2022
Fitness February: LNDR Got You