Valentine's Day is right around the corner, and it's one of the few days in the year where you can turn the couple cuteness levels all the way up! ?
Here at JD, we're breaking it down by couple, showing you that you're the perf' pair no matter how you're planning on spending Valentine's Day!
The Classic Couple
You're both true romantics. Valentine's day for you two means stepping up your looks and heading out for a date. Whether you're dining out or catching the latest film, you two will be the freshest couple out there…
Rockin' EA7, he's stylin' out the black polo shirt for a stepped-up look, and matching it with some sleek grey fleece pants to keep the 'fit comfy!
Step back, 'cos she's making a statement! Bringing luxe Laurel Wreath looks from Fred Perry, she's adding some premium vibes to Valentine's Day. This black dress gives her a relaxed look that's given a retro edge with taping to the sleeves.
The Off-Duty Duo
Yeah, you love each other, but you love chilling out just as much. Getting comfy on the sofa and catching up on all your fave shows – you can't imagine a better way to spend V-day!
She's keepin' things chilled with a super-cosy Swoosh look. Pairing a relaxed-fit taped crew sweatshirt with matching taped joggers from Nike – perf' for a do-nothin' Valentine's.
Also coming with a chilled Swoosh combo, he's reppin' a retro look with these black taped track pants and a tonal Sweatshirt with a zipped kangaroo pocket for the essentials when chillin'.
The Fitness Team
Laser focused and ready to put in work every day of the year – you're partners in life and fitness! Taking advantage of the empty gyms while people head out on dates, you're both looking to get in a Valentine's Day workout.
Hitting the treadmill in red, he's ready to make this a couple's workout to remember. With a tech-heavy tee and shorts for easy movement, he can switch up exercises with ease, all while rockin' the Nike Swoosh.
Having fitness fun with bae, she's ready to workout in a full adi 'fit. This sports bra gives her medium support to smash her gym goals, while these logo tights let her move with ease.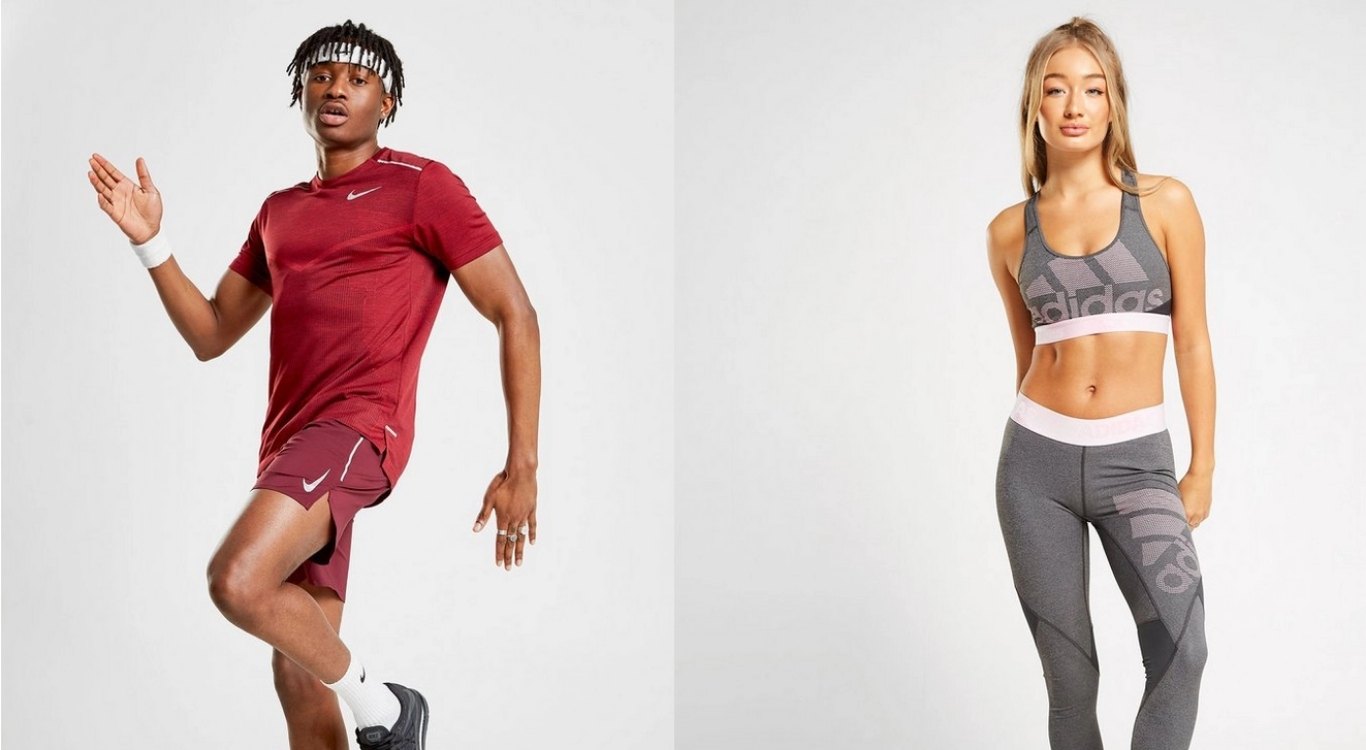 Whatever you get up to this Valentine's, make sure you and your No.1 are #couplegoals.
Find the latest men's and women's looks right here!
Next Article
JD OFFICIAL | October 23, 2023
5 Minutes with New Balance Ambassador, Todd Duncan