Last Sunday, we took over the Black Prince Trust Community Hub down in Lambeth, London, celebrating the b-ball community of South London.
Partnering up with the not-for-profit charity and Jordan, the day was packed with familiar faces on and off the courts, as well custom apparel, gaming comps and a mega 3v3 tournament!
Here's everything that went down and what our crew were reppin' ⬇
End-to-End Action
On the Regal Court, London Lions centre Paige Ashleigh (@pages_ldn) and UK Dunk champ Joel Henry (@iamtheroyalguard) kicked off the day with an intense warm-up for the competitors before joining Jemel (@jemelonefive) in the commentary box.
It was time for the tournament to begin, and with eight teams going head-to-head and a crowd watching from the side-lines, there were some serious skills on display.
If they weren't ballin' on the Regal Court, they were takin' their skills online with an E-Sports comp in our dedicated gaming area. Winners who placed 1st, 2nd and 3rd were able to get their hands on some console points and a fresh pair of Jordans, so it wasn't long before the NBA 2K lovers were out in full force trying to make the top spot! 🎮
Elsewhere, our guests had the chance to refresh their court-inspired style with customised prints by @ebalebela on Jordan tees for an exclusive look. Not only that, they got creative with their snaps in our JD x Jordan photobooth – perfect for the 'gram!
With the tournament over and our winners revealed, the crowd got in on the action as Guilia (@giuliaz12) hosted a freestyle and hoops comp for the chance to bag a pair of Jordans.
We weren't done there though. To top off what had been a mega day at the community hub, Brixton-born artists Santino Le Saint (@santinolesaint) and Cristale (@cristaleyy) took to the stage and brought the energy, while feel-good vibes came from afroswing collective NSG (@nsg_music)!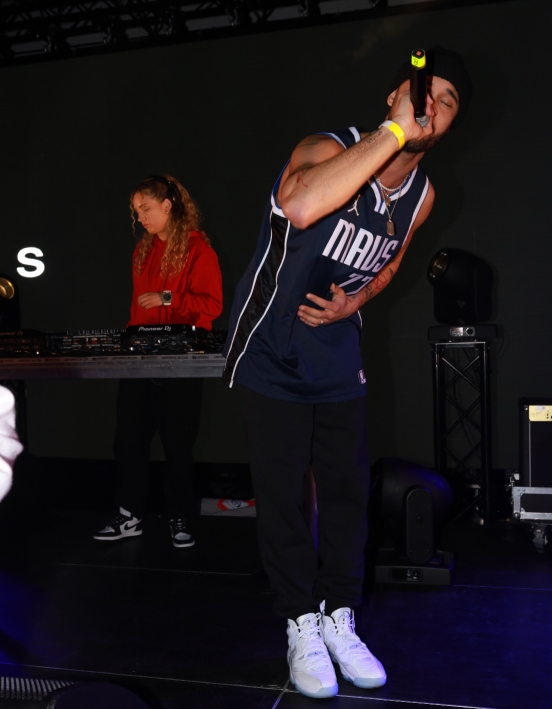 Iconic Style
Wanna know what our crew were stepping out in? We've got you!
Hosting for the day, Giulia went matching in her Pinstripe sweat suit, elevating her casual look with the Air 1 Zoom CMFTs in a Neutral Olive and White colourway.
Dunk champ, Joel, kept it classic with his Essential hoodie and joggers combo, while lacing up in the all-white Air 1 Mid sneakers for an old-school court vibe.
Up on stage, Santino repped the Dallas Mavericks Jersey during his set, keepin' his feet fresh in the latest Two Trey sneakers from Jordan.
As NSG headlined the show, OGD, Mojo and Kruddz were turning heads in signature Paris Saint Germain tracksuits, while Papii Abz and Mxjib made a statement in the Palomino and White Berry Air 1 Lows.
Whether you're after their style or not, browse the full Jordan collection right here for your next cop!
And for more behind-scenes snaps from the day, make sure you're following @jdsports across our socials. 📲
Next Article
JD OFFICIAL | October 25, 2023
ASICS' Latest Drop: GEL-QUANTUM 360 VII