Right now everyone (and we mean everyone) is chattin' about self-care. As we've all got a bit of extra time on our hands, now is the ideal time to give your sneaker collection the TLC it deserves.
Goin' to extreme lengths to keep holy grails completely spotless is the norm for some sneakerheads. And this can include never actually wearing those sought after pairs. Even before you get dressed in the morning, you open up 5 weather apps to make sure you're reppin' the right heat on feet. Wondering what to do when disaster strikes in the form of puddles, mystery marks and worse? Stay locked for antidotes to sneaker ills.
(@crepprotect)
Putting your trainers back into storage after wearing them is a MUST, even for the lazy sneakerheads out there. Otherwise those rare Airs are going to turn into your next pair of beaters if you don't take care of them. Putting them away dirty is actually one of the worst things you can do to them as whatever dirt or residue that has built up will only become more permanent over time. Need somewhere to store 'em? Say hello to our sneaker saviour, Crep Crates.
While you don't necessarily need to give your kicks a full-on bath after each and every wear, you should give them a proper wipe-down every now and then to avoid mould and deterioration – especially if they've gotten wet.
If you need some tips on keepin' your trainers box-fresh, we got you. Modern times demand modern measures so hit below to see our quick and painless guide on how to clean your sneakers.
Get Ready, Stay Ready
First things first. Prevention. If you don't want your fave pair of creps to come in harm's way, invest and prep 'em with some Crep Rain and Stain Shoe Care Spray. Covering canvas, nubuck and suede this spray creates an invisible coating which repels liquids and prevents stains.
(@abitgabriel, @vonrusch)
Never used the spray before? It couldn't be easier.
1. Make sure your trainers are clean and dry
2. Shake the can well before use
3. Evenly spray your sneaker from 20cm away
3. Leave to dry for 10 minutes before applying a second coat
Your sneaks will now be covered for 2-4 weeks (weather pending) so set a reminder in your phone for your next trainer spa-day session.
On-the-Go
(@crepprotect)
Keep your kicks looking fresh with Crep Protect Wipes. Ideal for a once-over, these wipes are the portable maintenance you need! Perf' for those tiny splashes or mini marks, each wipe has both a smooth and textured side. Suitable for use on leather, canvas, nylon and a host of other materials, the smooth side, used for spot cleanin' the upper, will keep you trainers lookin' on-point every day while the textured side will take care of stubborn marks and that difficult midsole. Keep 'em close by in your bag or wallet in case you spill something on your creps – they will come thru.
Pro tip: Use a dab and twist motion, it will help lift whatever stain you're tackling.
Re-Lace
Fresh laces instantly lift the look of your sneakers and they need just as much care as anything else. Throw 'em in a bowl with hot water and washing powder, swirl around, brush with and old toothbrush, rinse and repeat. Alternatively, put in a washing machine in a pillowcase or set the cycle to dedicates – then it's just a waiting game.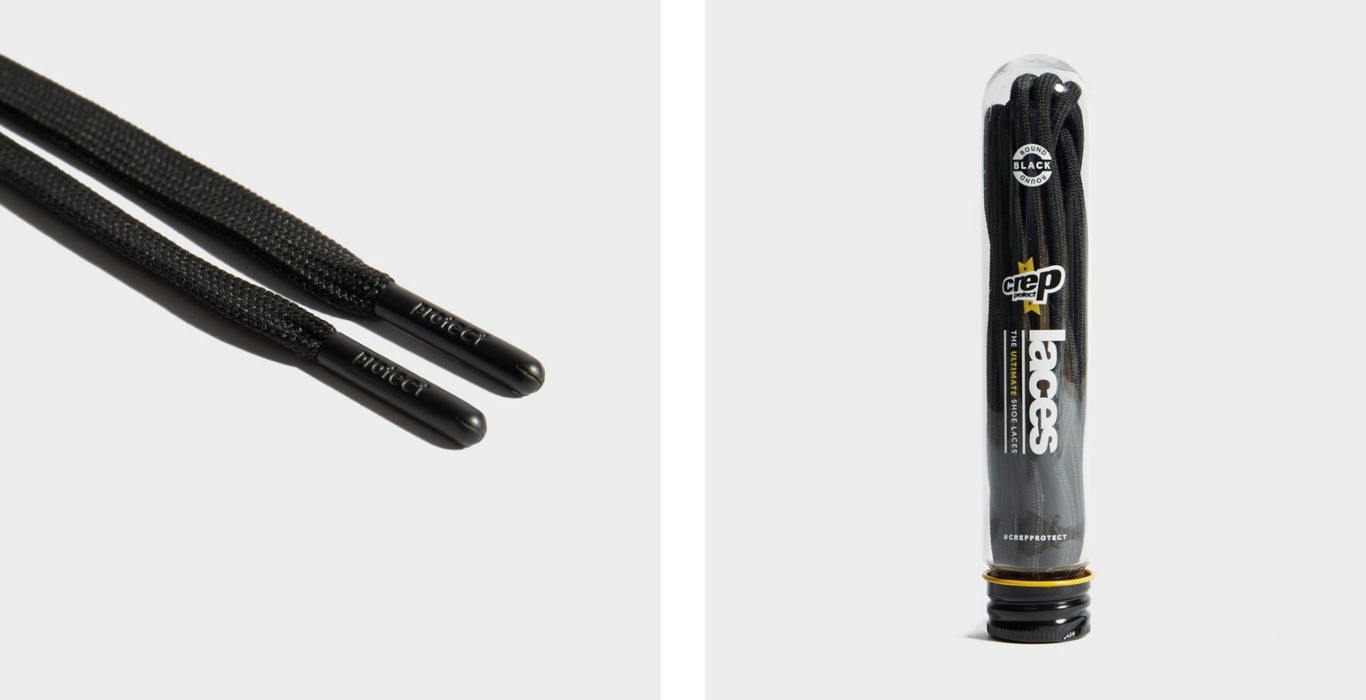 Can't restore 'em to their former glory? Peep laces on site right here.
Freshen Up the Funk
If you wear your sneakers down to the ground, they're bound to develop some sorta' smell. Remember the insole needs love, too. Sometimes it's a basic removing and airing out, but if the smell is excessive, throw the insoles in an enclosed box with baking soda or dryer sheets to eliminate the smell.
Wanna' know the best-kept secret of die hard runners everywhere? Pill Shoe Fresheners! All you have you to do is twist the pill and then leave in each trainer – they'll be smelling as fresh as the day you bought 'em. Containing Zeolite, NShield and a fresh fragrance, they absorb moisture and give your fave kicks the VIP treatment.
Midsole Missions
Lather up your brush, scrub away and you'll have clean midsoles in minutes. It's really that simple. Reppin' an apron or old clothes (you don't mind getting dirty) will be needed.
(@joshjo)
And if you wanna' pin point precision, hit up the Midsole Marker Pen. It lets you restore tired midsoles to their OG state. Miracles do happen!
Underfoot
Remove any excess dirt from your sneakers by knocking the soles of your sneaks together and then use a soft brush or damp towel to rub off any remaining dirt. This will already improve most surface-level scuffs and will save you from having to go through the traumatic experience of having dirty trainers again.
Keep you stack strong with all the essentials from Crep Protect and check out how to organise ya sneaks here!
Next Article
JD OFFICIAL | October 23, 2023
Up Close with Nike's React Vision