Haven't you heard? The other week, we linked up with our gal Chloe Burrows and jetted off to LA for the ultimate sun-soaked trip.
You might have seen a sneak peek over at @jdwomen, or caught her sporting the latest drops from Pink Soda Sport on the blog, but right here we're filling you in on allllll our fave looks; fresh from LA!
Need some new season inspo? We're packing it in right here gal. Just tap the image to shop the look! ⬇️⬇️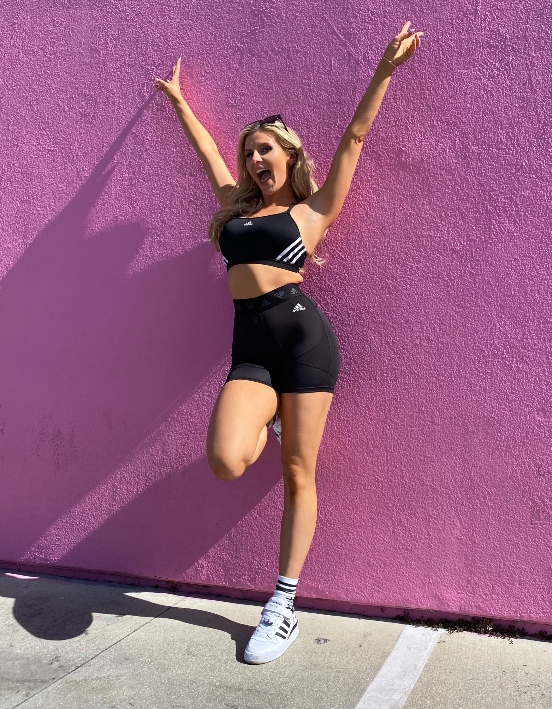 Fitness Feels
If you've been keepin' up with Chloe over on YouTube, you'll have seen our gal is werkin' on her fitness RN. There's no better way to step up your motivation than a fresh fitness 'fit and Chloe's gearing up in all the latest from ya fave brands.
What better way to rack up the daily steps than on an LA hike! Takin' in the insane views, Chloe's lookin' the part in a sports bra and leggings combo from Jordan.
From workouts to iced coffee stops (an essential obvs!), the 3-Stripes has Chloe covered!
She's working a monochrome adidas look with tight-fit shorts and a matching sports bra. Both comin' with adidas' AEROREADY tech built-in, this look promises to keep you cool and comfy whether you're focusing on your fitness or steppin' out in the sun. Spring Summer is pending so stock up on essentials while ya can!
Always comin' through with the cutest colourways, Chloe looks mega in the latest matching sets from Pink Soda Sport.
These are styles you can take from HIIT right through to brunch, perf' while Chloe was livin' the LA dream! Better yet? They're all exclusively available right here at JD.
When in doubt, sport the Swoosh! Our gal Chloe is hittin' up LA in head-to-toe Nike Air. Air Max 95s are forever one of our faves and her black Air Max 95 Essentials guarantee to go with e-v-e-r-y-t-h-i-n-g.
She's paired 'em with a matching Nike Air sports bra and leggings look for maximum comfort whatever the plan.
That's a wrap! Be sure to stay locked in to @jdwomen for everythin' we're up to with Chloe.
Don't miss her hosting in our latest YouTube series 'Make It Make Sense' – tune in to the latest episode here!
Until next time 💘
Next Article
JD WOMEN | October 18, 2023
Design The Future With Vans x Sisterhood