If you didn't see the @jdwomen Instagram story this week, where have you even been? We teamed up with @nikewomen and a collective of the babiest babes to style up the Nike Epic React. Letting their personalities take the lead, we were treated to four absolute fire outfits that we're giving you a second chance to see. You're welcome!
JESSY LAW
Meet Sneakerhead, @jessylaw – quirky, cool and a self-confessed Nike addict. She showed us how to make a statement, pairing the Reacts with standout patterns and bold colours.
ANNIE
Next up, our gym babe @annieopenshaw – she swapped squats for killer camera shots. Showing us how to gym in style, Annie dressed up her Reacts with an all-black workout three piece.
@jessylaw
@annieopenshaw
GEORGIA
Fashion model @georgiamaysalamat strutted her stuff  matching pastel colourways, showing these Reacts were definitely made for walkin' – no talkin' necessary!
HELEN
And who's better to represent street stylers than the queen herself, @helenxto. Helen kept it cool in her triple blacks, with a crop and sweats to match.
@georgiamaysalamat
@helenxto
Lunch break = manicure, and a Nike cupcake if you were feeling peckish. Our @jdwomen influencers were treated to the coolest nail art e v e r, @wahnails you've done it again.
And if you think the girls as individuals are cool, you should see them as a collective; meet the #girlsthatgo. Focusing on their uniqueness and cool af style, they show us how the React embodies performance as well as swag.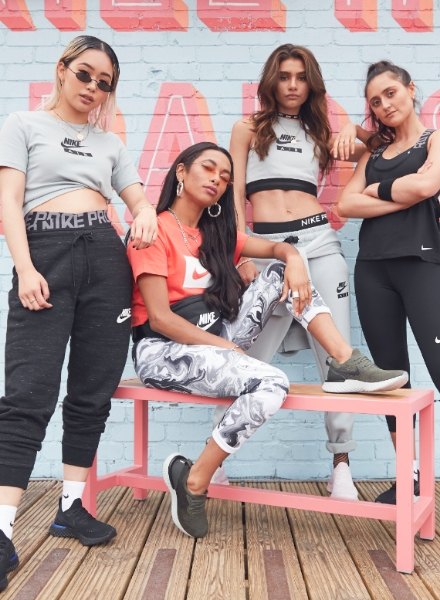 Basically, meet your new favourite sneaker and your new style inspos!
Grab yourself a pair of the Women's Nike Epic React now! Ready, steady, REACT!
Next Article
JD WOMEN | October 20, 2023
Summer Essentials: The Birkenstock Is Back!