Wondering how to fuel your new gains? To get you feelin' refreshed and energised, we've put together a few healthy recipes to help you take on your workout game!
Work some of these into your routine, up your fitness and you'll be feelin' fresh in no time. Time to nourish that mind, body and soul…
Breakfast of Champs
Easy Eggs On Toast. A simple dish that is packed with protein, worth getting out of bed for and you can whip up in no time.
(Image credit @evergreenkitchen_)
Ingredients:
2 Eggs
2 Slices of bread
Dab of butter
Cheese slices (halloumi is our fave!)
Small handful of sprout leaves
Garnish: salt, pepper, chilli flakes
Method:
1. Put 2 eggs in a small pot filled with water and bring water to a boil. Once boiling, turn off heat. Cover pot with a lid and allow it to cook for desired cook time. Once cooked to your liking, take your eggs from the pot and transfer them in a bowl of cold water.
2. Meanwhile, toast your bread. Once toasted, dab with butter. Add enough cheese to cover the surface of the toast, and allow it to melt slightly from the heat of the freshly toasted bread.
3. Once the eggs are cool enough to handle, peel off the shell. Put the egg on top of the toast, and slice. Top with fresh sprouts and garnish with salt, pepper and chili flakes. Eat immediately.
Left Over Lunch
Got some leftover rice to use up? These curried chickpea rice patties are just perfect for that! High in fibre and good quality complex carbs to keep you feeling full and satisfied for hours.
(Image credit @naturally_nina_)
Ingredients:
Chickpeas
Cooked basmati or brown rice
1 tsp onion powder
1 tsp garlic powder
1 tsp curry powder
2 tbsp Nutritional yeast
2 tbsp fresh chives
Black pepper and salt, to taste
Method:
1. Add all ingredients except chives to a food processor and pulse to form a mixture that's almost smooth with just a bit of chunks left.
2. Mix in the chopped chives, then form into 4 patties using your hands.
3. Heat a non-stick pan, then cook the patties until golden on both sides.
4. Serve up with leafy salad and smashed avocado. These patties are also great for using in burgers and wraps.
Tip: Ideal for meal prep, store in a sealed container in the fridge for up to 4 days, or freeze.
Winner, Winner Taco Dinner
Super easy, quick to make and full to the brim of flavour, these chicken tacos will be your go-to weeknight meal for the next few weeks. No, wait, months probably.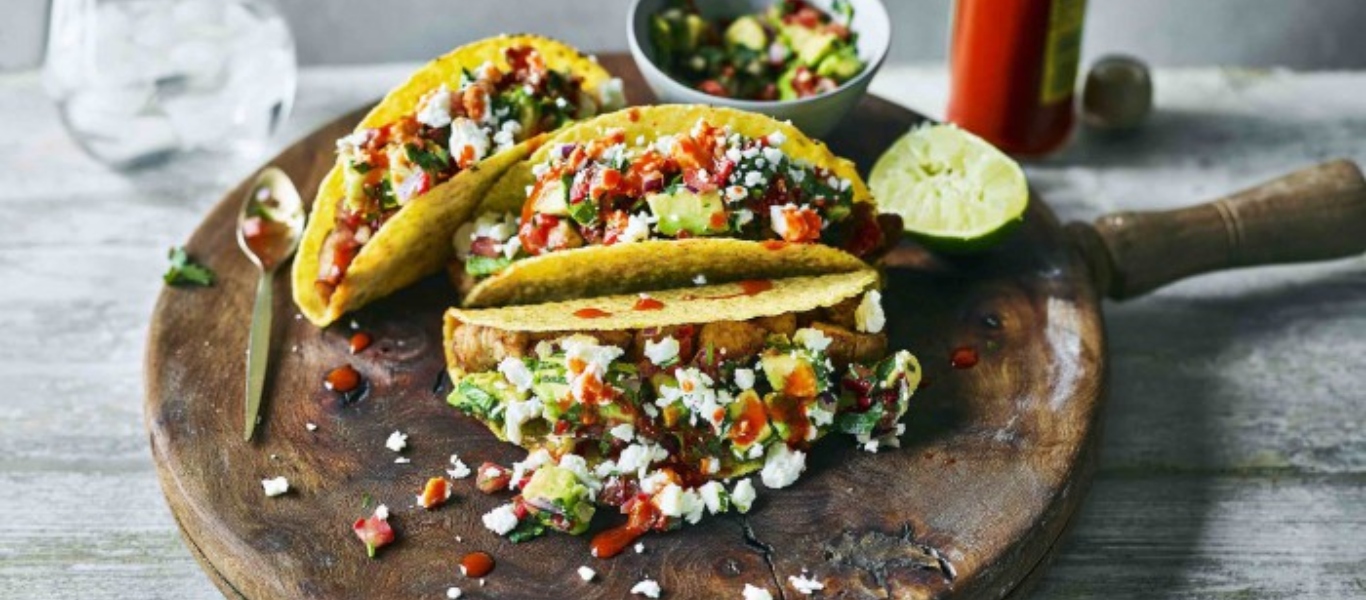 (Image credit @thebodycoach)
Ingredients:
Chicken breast, cut into small chunks
1 tsp olive oil
1/2 tsp ground cumin
1/2 tsp smoked paprika
Salt and pepper, to taste
Avocado, diced
1/4 red onion, peeled and finely chopped
1/2 tomato, finely chopped
1 red chilli, deseeded and finely chopped
Juice half a lime
Small bunch of coriander, chopped
Taco shells
Feta, crumbled
Hot sauce (optional)
Method:
1. Put the chicken into a bowl, add the oil and spices then season with salt and pepper. Toss everything together until the chicken is evenly coated. Set aside to marinate for 10 minutes.
2. Preheat a griddle pan to a high heat, add the chicken and cook for 6-7 minutes, shaking the pan occasionally to ensure it cooks evenly. Once the chicken is cooked through, transfer to a bowl to rest for a couple of minutes.
3. Meanwhile combine the avocado, onion, tomato, chilli, lime juice and coriander in a small bowl and season to taste.
4. Warm the taco shells in the oven or microwave, pile the chicken into the taco shells, top with the avocado salsa then sprinkle over the feta and splash on that hot sauce. Et voila!
Next Article
JD WOMEN | October 25, 2023
Up Close with the Air Max 2090