It's been a whole week since Love Island returned to our screens!
If you've missed what's been going down, we're about to fill you in on this week's Villa goss. With all the deets, an insider interview with the first Islander to be dumped from the Island, plus the chance to shop their looks – we've got you covered right here!
Week 1
What a start to the series…We're only six eps in and we've seen coupling, recoupling, an unexpected early dumping and a whole load of grafting! Missed the first week but have major FOMO? We'll fill you in ahead of tonight!
Like always, the first ep saw the Islanders make their entrance into the Villa, each coupling up and getting to know everyone. Of course, they don't want to put all of their eggs in one basket just yet! In some couples sparks started to fly, while others just weren't feeling it…
At the end of the first ep was the first bombshell entrance, with new-gal Chloe on the scene. Once she was settled in, she was given the chance to couple up with any boy in the Villa, choosing Aaron and leaving Shannon single and dumped from the Island.
It didn't stop there…to stir things up, not one but two new boys entered the Villa in the hopes of finding love. Chuggs and Liam got their graft on, taking Faye and Sharon on a date and hoping to make an impression ahead of the all-important recoupling.
On Friday night, the Islanders gathered around the iconic fire pit and the girls chose who they wanted to couple up with. With only 5 girls and 7 guys, it left new guy, Chuggs and Islander OG, Brad single. Cue Rachel's entrance!
Just last night, the show was left on the ultimate cliff-hanger, with Rachel deciding who she'll couple up with. The Islander she doesn't choose will be dumped TONIGHT!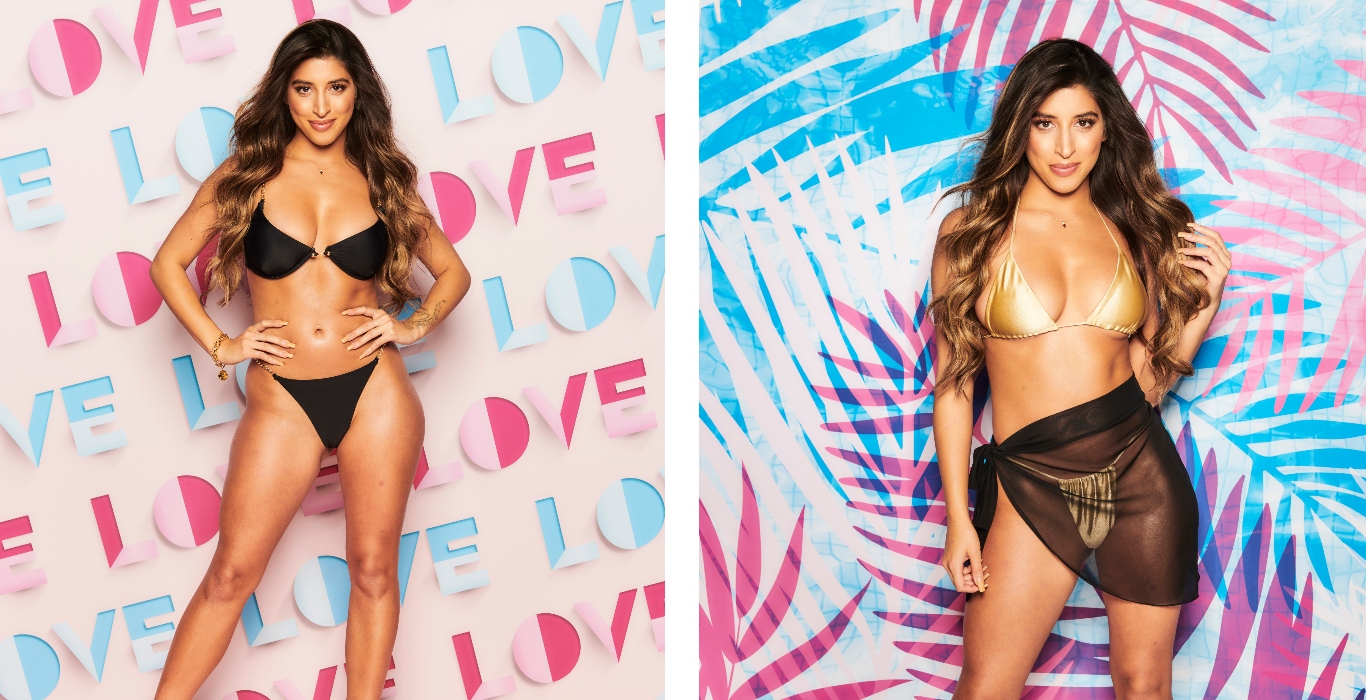 Catch Up with Shannon
On Wednesday, Shannon became the first Islander to leave the Villa after the ultimate shock dumping! She had to instantly pack her bags and leave the Island….
Since leaving the Villa, we've been given insider's access to her exit interview:
What were you going into the villa for?
I was going in to hopefully meet someone, but I think also to have the summer of a lifetime… [laughing] my group chat is going to be called 'three episodes'."
How did you find the coupling up at the beginning?
I said I didn't want anyone cocky and arrogant, but for them to make a kind of statement, they almost need to come down and be a bit like that. I found the coupling up interesting. I wanted someone to walk through that I thought, 'Here we go, I've got a good shot at this' but I didn't find that. I was glad that I had Aaron out of everyone. I was just gutted I didn't find that first physical attraction with someone.
What did you think when Chloe arrived?
We didn't even really know the boys and they were away already [on a date with her]. I think a lot of the girls were worried and I wasn't. I was honestly just like, 'Whatever'.
She kept saying [Aaron] is really attractive. Which he is. Really easy on the eye. I think all the guys are good looking. I just think they were all too pretty for me.
How do you feel about leaving?
I am a bit gutted. Do you know what, out of all the girls, I think it is fair it's me because I didn't have any emotional attachments to the guys, but all the girls had tiny little things [going on].
What are your predictions?
I think the ones that can stand the test of time are Jake and Liberty. I think Aaron and Sharon could have a little spark, I don't really know yet. The rest of them, I think it's going to change. I don't think it's going to be Faye and Brad as a couple until the end. I think people are going to come in and their heads are going to be turned.
What would be your advice to anyone going in?
Honestly, do you. Do whatever you're comfortable with, even if you feel an idiot doing it. Don't do anything you're going to go to bed and think, 'I wish I'd never done that or said that'. Then you can really walk away from the experience and be like, it is what it is."
What's next?
Keep doing me, I want to get back on my streaming. I think go on holiday with the girls and then suss out what I want to do. I think I'm going to have to spend a good couple of months sussing out what I want to do.
Get the Islander Look
Want the Love Island look? You can cop their 'fits, trainers and accessories here at JD! From Brad's Air Max 95s and Aaron's Rewired Cap, to the girls' Nike workout looks and the official JD x Love Island Get Grafting Towel – we've got you covered.
Check out all the looks as spotted in the Villa right here.
#GetGrafting
Not stopping there…over the weekend we dropped the ultimate TikTok challenge! We want to see how you make your entrance for the chance to WIN 2 x VIP tickets to the official Love Island Final Screening Party.
What're you waitin' for? Show us your fire Villa entrance and you and your best mate could be going, VIP. Take inspo from a whole load of ex-Islanders and influencers and take on the challenge now!*
Come back next week for all the deets on week 2!
*Terms and conditions apply, applicants must be over 18 to enter
Next Article
JD SPORTS | October 23, 2023
Recover to the Max with Therabody