Week 4 of Love Island just came to an end. If you missed any of the eps or need some more villa gossip, you've come to the right place!
With another recoupling that saw more Islanders dumped, it was time to bring in some new faces! Find out what happened over the past seven days and how you can shop some of the Islanders' looks right here.
Week 4
As the Islanders entered week 4 in the villa, we started with a bang! The classic game of 'snog, marry, pie' raised some tension between a few couples. But the big drama of the week was still yet to come…
A surprising firepit text interrupted the Islanders' '70s themed night, with the public voting for their favourite boy and favourite girl. From the bottom three boys and girls, the remaining Islanders had to choose which girl and boy to dump from the villa. The girls chose new boy Danny and the boys were in the same mind as they chose AJ.
With two Islanders dumped, it was time for some new arrivals! Bring in bombshells Tyler, Georgia and Abigail. Sparks began to fly instantly between Kaz and Tyler, while Abigail made it clear to Toby that she was interested in getting to know him more.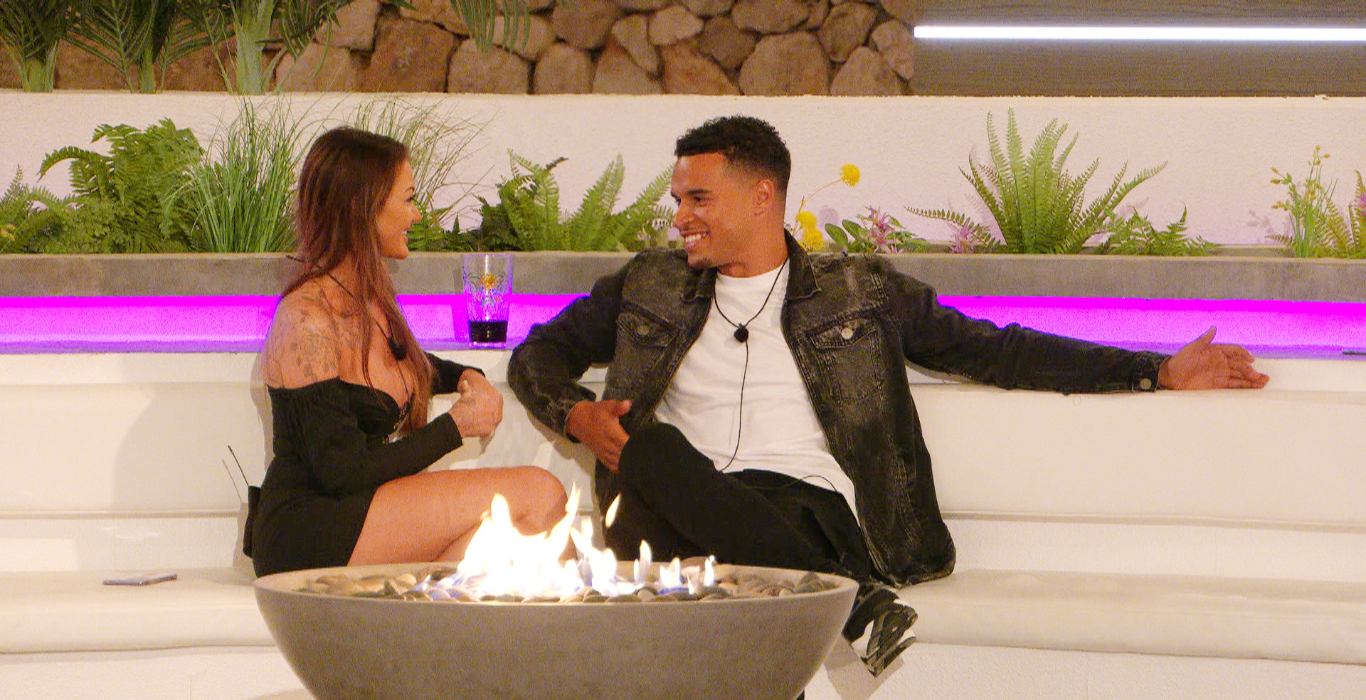 On Thursday, it was the boys' turn to choose in the recoupling. Aaron finally got to couple up with Lucinda, while Toby made the switch from Chloe to Abigail, leaving Hugo left to pick between Chloe and new girl Georgia. Hugo raised a few eyebrows as he saved Chloe and made comments on Toby's switch, leading to a small divide in paradise.
On Friday night, our first couple of the series became official! Jake popped the question to Liberty, asking her to be his girlfriend, and she said yes!
Finally, in Sunday's ep, the Islanders gathered around the firepit once more as the public voted for their favourite couple. Newly coupled Aaron and Lucinda were the pair who received the fewest votes and were dumped from the villa.
Catch Up with AJ and Danny
After their exit last week, we've been given insider's access to both AJ and Danny as they left on the same night. From their best mates in the villa, to who they think will win, get all the gossip right here…
AJ
What was it like initially walking in to all the boys together?
"It was intense, I didn't feel nervous… well it was nerves and excitement. It was a little overwhelming to have all these guys. It was like where do you look, which conversation do I have? I haven't been on a date for over a year and half, so I've gone from not dating anyone and not talking to any men for ages to trying to deal with six conversations going on at once. So, it was a bit like, 'Wow!'
"You see these guys on TV and they're attractive guys – Hugo, definitely, was more attractive to me in person. His eyes – when you see them in person, he's gorgeous. All the boys, stunning. Gorgeous on TV but even better in person!"
When you arrived, you said 'Eyes on the prize boys' – had you planned to say that?
"Do you know what, it was a kind of off the cuff thing. I'd kind of thought of just beforehand, I was like, I might as well do a cheeky… something better than just 'Hey, guys!'"
What is it about Hugo that you like?
"Everything he said was this is the kind of guy I want to be with. He has the right morals. I have certain expectations in a relationship and Hugo meets those expectations. I don't feel like I need to teach him how to be a good boyfriend. He has the right morals, knows how to respect a woman, he's really funny, very comfortable to be around. I just feel natural around him. As time went on, it was like OK maybe we're not so compatible. But the first few chats, he was approaching me and I really liked that. I like that he came up to me, made me feel comfortable. He's a good-looking guy and really lovely. That's all you want – a nice guy in your life! I'm done with idiots."
Did you get back from him what you wanted?
"No. This is why I wanted some advice from the girls, is he a bit of a slow burner, I'm happy to compromise, is it that I need to take the lead here, he needs more time etc… I was happy to do that. But I think as time went on, he's not giving me much back. I feel like maybe I should have put my efforts elsewhere, but you don't know from the first chats. It was starting to make me feel like, is he a slow burner, or not interested?"
Would you meet him outside of the villa?
"Well, he friend-zoned me now, so I'd be happy to meet up with him as a friend. But I feel like, I put in quite a bit of effort and I guess we'll just see when he comes out. I don't think he gave me too much of a chance to be honest or made that much effort."
Would you meet up with Danny?
"Yeah, me and Danny did click straight away. It's a shame we only sort of got to have one chat before this happened. Again, it's early days, we'll see what happens I guess. I'm open to see what happens."
Who did you get on with the best?
"I'd say Kaz. She's just got my kind of positive energy and good vibes. Absolutely adored her. Kaz is definitely my kind of person, she reminds me of my girls back home."
Who do you think is the best couple?
"This is the thing, if I could go back now knowing Hugo wouldn't make much of an effort with me, I'd probably have coupled up with Liam. But Liam and Millie, seeing them in person, for me they were quite a strong couple. I feel like Liam and Millie are a really lovely couple. So I'd say them two. I think they could potentially win it."
Would you go back on Love Island?
"I'd definitely go back in it was fun. I probably will still keep watching, root for the guys and see how it all pans out. And it'll be interesting to see how strong those couples are. The couples are actually quite strong already, so it'll be interesting to see what the turn of events are."
Danny
What was your first impression of Lucinda?
"Obviously when I first met her, she's really nice, a stunning girl. But I've never really come across someone I can't speak to properly. She doesn't give you much back.
"Me and AJ are a lot more suited. Obviously, she's my type on paper looks wise and she's up for a laugh. She smashed the first challenge [cat and mouse] when she was new like me. She put her all into it. She bossed that. Full of confidence and I liked it."
Would you meet outside the villa?
"Yeah, potentially."
How did you get on with the boys in the villa?
"Me and Jake got on like a house on fire. It was like a little bromance. That was good to meet Jake and I reckon we'll be friends for a long time.
"With the guys in there it was sweet. It was good. Me and Aaron squashed it [about Lucinda], it wasn't even that deep. Me and Aaron were fine. Straight after it happened, we were chatting in the bedroom."
Did you enjoy the Snog, Marry or Pie challenge?
"Lucinda saw the funny side. It was just a pure joke. Me and Aaron were saying to the boys, 'We don't even need a shower [as we didn't get pied]'."
Who do you think are the best couple?
"Obviously, Jake and Liberty. They could win it. She can be herself; he can be himself. They get each other, do you know what I mean? They just bounce off each other and just laugh and mess around – it's good to see. That was definitely what I was looking for. Speaking to Jake, we were trying to find a 'Jake and Liberty 2.0' for me, so we could be the four of us."
Get the Islander Look
Want the Love Island look? You can cop their workout 'fits, trainers and accessories here at JD! From AJ's Converse All Star High to Toby's Boss Core Swim Shorts, plus the official JD x Love Island Get Grafting Towel – we've got you covered.
Check out all the looks spotted in the villa right here.
#GetGrafting
Into your fitness, or want to get started? We've got the app for you! Powered by JD, Love Island Fit is an all-new fitness app that lets you workout at home alongside the Islanders.
Not only can you get a sweat on, you can also shop their look with the 'Get The Look' feature! What're you waiting for? Download the Love Island Fit App.
Love Island continues tonight at 9pm on ITV2 and ITV Hub. Episodes are available the following morning on BritBox.
Next Article
JD WOMEN | November 7, 2023
Calvin Klein Swim: Supreme Poolside Vibes