It's officially August and week 5 of Love Island brought all the drama! If you missed an ep or just can't get enough of the villa goss, we've got you…
Last week it was time for Casa Amor; the ultimate relationship test for each of the couples. It saw the guys and girls living in separate villas, and not one, or two but 12 new Islanders arriving in paradise for a shot at love. Get the low down on what's been happening over the past seven days and how you can shop some of the Islanders' looks right here.
Week 5
As the Islanders entered their fifth week in paradise, it all kicked off with the boys sneaking out of the villa to head to Casa Amor…it was time!
After playing dares and a head-to-head challenge, sparks started to fly between some of the Islanders. With Chloe in a friendship couple with Hugo, she was officially the only single girl and was excited to get to know the guys, with Dale catching her eye from the start. Over in Casa Amor, heads were being turned! After some chats including discussions on sleeping arrangements, Tyler, Liam and Toby all chose to share a bed with one of the new girls.
Cue the postcard!! Just two days later, the main villa received a postcard from Casa Amor. After seeing their men getting close to new gals, some of the girls chose to let their walls down and gave the new boys a chance.
After three days apart and plenty of grafting, Laura Whitmore arrived at the main villa for the ultimate recoupling! Each of the original girls were given the opportunity to stay loyal, or recouple with someone new. After they'd made their decision, their partner returned from Casa Amor – either single, or with a new girl on his arm.
Abi stayed loyal to Toby, who brought back Mary from Casa Amor, leaving Abi single. Chloe chose to continue her romance with Dale, while Hugo came back to the Villa with new girl, Amy. Jake and Liberty aka 'Jiberty' both chose not to recouple and were finally reunited. Kaz recoupled with Matthew and Faye chose Sam after seeing Teddy cosying up with another girl on the postcard, and although Tyler recoupled with Clarisse, Teddy came back alone meaning he's now single too.
Last up, it was Liam and Millie. Choosing to stay loyal, Millie was super happy to see Liam return to the villa without a new girl on his arm. But it wasn't that straight forward…Lillie later entered the villa and spilled the goss on how she and Liam had been flirting and kissing over the past few days.
Can Liam re-build the trust to get back into Millie's good books? Can Teddy and Faye rekindle their relationship? Will Toby decide who's the one for him? We're so ready for this week's drama!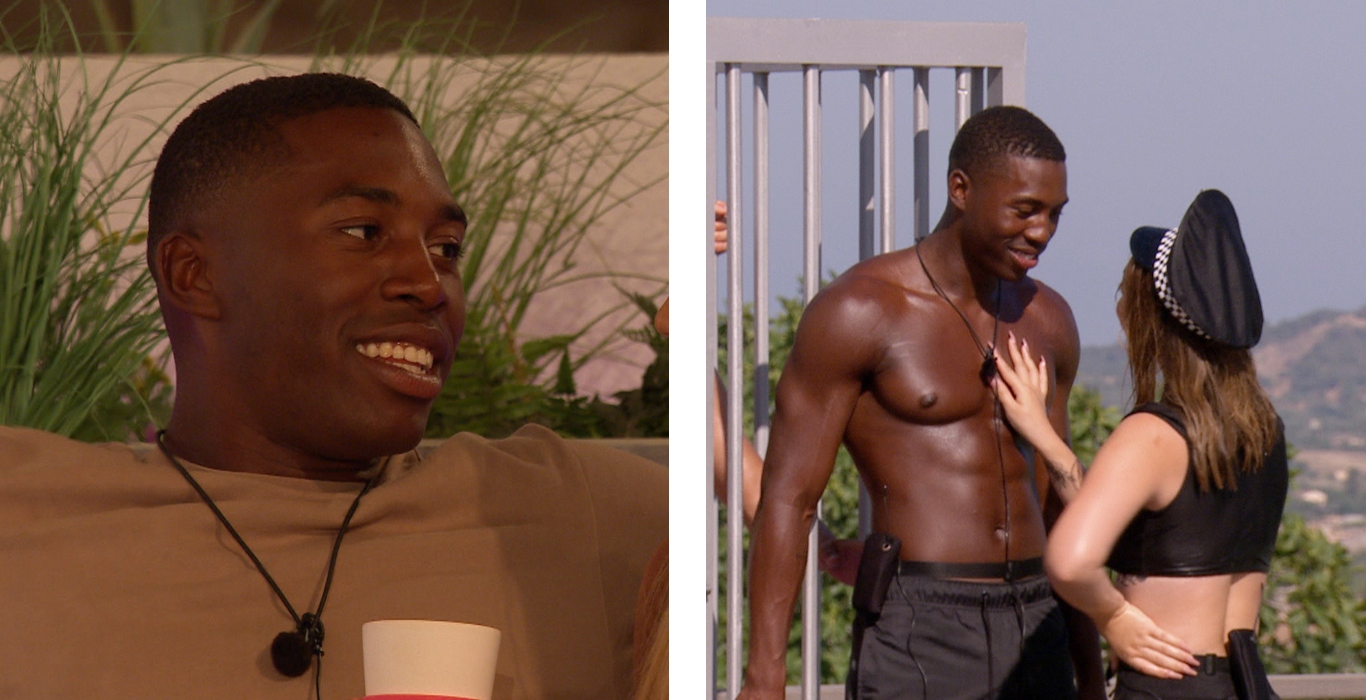 Catch Up with Aaron and Lucinda
With Casa Amor on the cards last week, it's been a while since we've seen a dumping! Apart from the new Islanders not picked in Casa Amor, Aaron and Lucinda were the latest to leave the villa. We've been given insider's access to their exit interview…get the goss right here!
Aaron
When Brad left, was it on your mind he'd be at home watching you with Lucinda?
It was a bit on my mind. When he did leave, I didn't want to try and chat to her too quickly. The situation was sensitive. I wasn't sure how she felt about him, which is why our first conversation was how she was feeling, how she felt about him and how she wants to move forward.
Do you think you will meet up with Brad?
Oh, definitely. Me and Brad are tight. We just got on from day one. I don't know anyone like him. I've heard so much about Amble! We're so, so different but we just got on really, really well.
Have you and Lucinda left as an official 'couple'?
We were only coupled up for a couple of days unfortunately but I think first of all we want to start with a first date. We haven't had a first date yet.
Did you want to be in Casa Amor and what do you think will happen?
The first few weeks I wanted to be there to do Casa. It's part of the experience. I would love to do that with the boys. It would have helped bring us even closer together. In terms of most of the other boys; Jake obviously, he's not going to look elsewhere, he's a very, very loyal guy. I also think Liam, there's no chance of his head being turned. Him and Millie are probably my favourites to win.
What are your thoughts on Hugo's situation?
Hugo has been trying really, really hard to find a connection. It doesn't matter how many people come to you and say, 'I really like you', because it's a two-way thing. He could have so easily settled for a couple of people that he wasn't crazy attracted to or felt that vibe with. Then he would have been not being true to himself and playing a game. Hugo is such an honest guy he would never do that.
Would you recommend Love Island to a friend?
Honestly, it was probably the best experience of my life so far. All the support, I didn't realise how big the team was and how supportive they are. They are there for you the entire journey and have said they will be there for me and with me now I've left the show.
Lucinda
How would you sum up your Love Island experience?
I would sum up my Love Island experience as very eventful, fun and exciting as well. I feel like I was non-stop there but I absolutely loved it. I wouldn't change it for the world.
How do you feel about leaving the villa?
I'm excited to see where life takes me. I left with Aaron which is amazing so I am happy. It is bittersweet because I loved it there and you never want to go, but your time comes, and it does for everyone. I remember standing up and looking around seeing the couples standing up and thinking 'Oh my God, if any of these couples leave it'll be a big thing.'
Are you going to watch Love Island from home?
100%. I'm going to be rooting for everyone. I can't wait to watch my girls and my boys. It's going to be so weird to watch everyone but I can't wait.
Who were you closest to in the villa?
Millie and Chloe. They were my two best friends in the villa. We told each other everything. We called ourselves the naughty trio. When I left I felt they were very upset, we were hugging and it was very emotional.
What is next for you romantically? Are you going to carry on getting to know Aaron? Would you like to reconnect with Brad?
I definitely want to continue things with Aaron. At the time when Brad left I was really upset but I'm happy that I stayed because I carried on and saw Aaron in another way. I feel like when I went in, there was Brad and Aaron and it was nice to focus on one person. It meant that I could connect with Aaron and we get on really well.
Do you have any regrets from your time in the villa?
No regrets. I live with no regrets. I was myself in there, there's not much more I could have done.
Who do you think will win?
I'm rooting for Millie and Liam – Mills is my sister in there and I want her to go smash it. I love Libs and Jake so much as well.
Would you go back into the villa?
Yes I would with Aaron if that was possible. It's so fun there.
Get the Islander Look
Want the Love Island look? You can cop their fitness 'fits, trainers and accessories here at JD! From Millie's Havaianas Flip Flops to Toby's Rewired Trucker Cap, plus the official JD x Love Island Get Grafting Towel – we've got you covered.
Check out all the looks as spotted in the villa right here.
#GetGrafting with Love Island Fit
Into your fitness, or want to get started? We've got the app for you! Powered by JD, Love Island Fit is an all-new fitness app that lets you work out at home alongside the Islanders.
Not only can you get a sweat on, you can also shop their look with the 'Get The Look' feature! What're you waiting for? Download the Love Island Fit App now.
Love Island continues tonight at 9pm on ITV2 and ITV Hub. Episodes are available the following morning on BritBox.
Next Article
JD WOMEN | October 23, 2023
Wanna' Win Mabel's Nike 'Fit?!