Retro is never out of fashion. That's certainly the case when it comes to football shirts from seasons gone by, immortalised thanks to their daring designs and timeless templates. Read on to check out the iconic strips we've got for ya'.
Classics From The Capital
Let's rewind to London, 1985, when Arsenal were kickin' ball at the legendary Highbury Stadium. Unfortunately, it was an unsuccessful season. Don Howe guided The Gunners to a 7th place finish in the First Division, a quarter final in the league cup, and reached the 5th round of the FA Cup.
Despite the lack of silverware, the Arsenal squad looked the part with an iconic home and away shirt. We've got the replica version, so you too could look as sharp as renowned forwards Charlie Nicholas and Niall Quinn.
The home shirt lands in the traditional colourway, a red torso with short white sleeves. It features a V-neckline for a classic look and has one of football's most famous sponsors to the front, "JVC". This shirt is finished up with a commemorative "centenary year" crest to the chest.
In a yellow colourway, this away shirt will make a statement whilst showing your support for your beloved Arsenal. Both shirts are made from a lightweight and ultra-smooth poly fabric, so you'll be comfy whether you're watching or trying to emulate Tony Adams at 5 aside. There are also a range of jackets to round off your look as well as other shirts.
Arsenal weren't the only side in the capital donning a slick set of shirts back in the day. In 1990, Chelsea signed Dennis Wise and Andy Townsend, their first million-pound players. It was a disappointing season, but they did have a home and away shirt that looked a million dollars.
You can relive Chelsea's '90s look by coppin' a modern recreation of their 1990 home shirt. It lands in their royal blue colourway with a bold all-over print. For a nostalgic vibe, it has a button placket and spread collar with short sleeves. It's signed off with the "Commodore" sponsor to the front and the Chelsea crest to the chest.
Complete the look with the away shirt. A white and red colourway with a diamond design is bound to turn heads. It has a button placket with a spread collar short, baggy sleeves and the same sponsor and crest for a '90s style. All in all, the 1990s produced some fan favourites, take a look at the full retro Chelsea range by clicking here.
Do you follow Crystal Palace? Then wind back to 1997 when The Eagles were reppin' a home shirt that's still loved today. This reproduction has the notable red and blue stripes, a button placket with a spread collar and short, baggy sleeves for a vintage look. Mirroring the original, it has a "TDK" sponsor to the front and the Crystal Palace badge to the chest. Add to your collection with a classic from the '70s, shop here.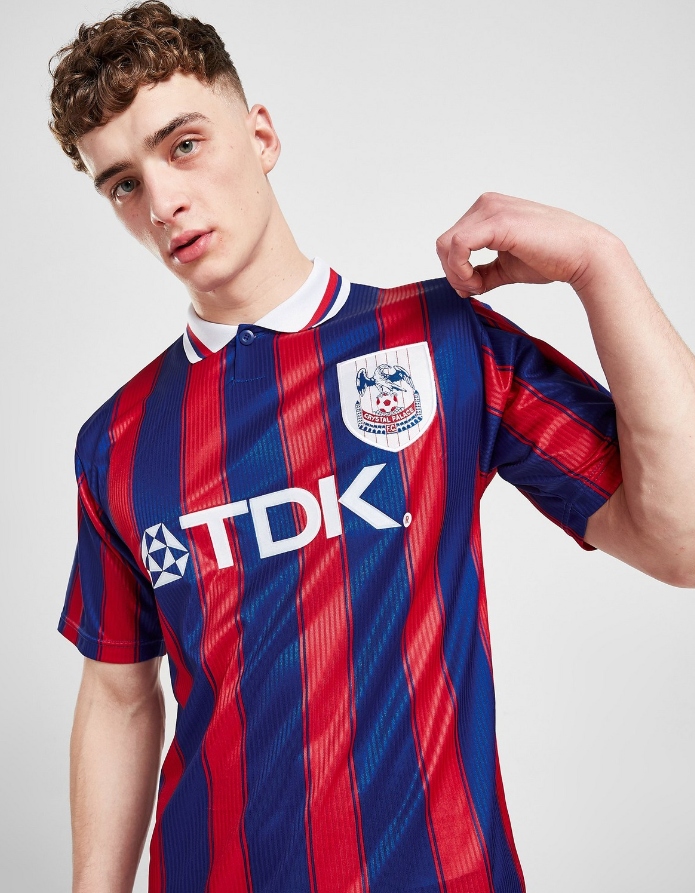 In 1994, White Hart Lane saw Teddy Sheringham and Jürgen Klinsmann bag goals in a glorious white home shirt. It was so good that it's been remade with a modern lightweight poly fabric whilst maintaining the features that made it great in the '90s.
Step up your support for Spurs and bag the '94 away shirt from Score Draw. It comes in a navy colourway with purple geometric detailing to the sides and sleeve for a standout style. This shirt shares the same "Holsten" sponsor and classic club crest to the chest as the home shirt. Want to see what other retro Tottenham shirts there are? Check them out.
An iconic moment makes for an iconic shirt. Bag the replica shirt that celebrates Trevor Brooking securing West Ham's third FA Cup in 1980. Built from a soft cotton fabric for comfort at home or the London Stadium, it comes in a white colourway with the Hammers' unmistakable claret and blue colours to the sleeve and collar. The Irons have had some belters over the years, browse the full range and level up your support.
Midlands Magic
Want to follow Aston Villa home and away whilst wearing the perfect shirt for the day? For your trips to Villa Park, pull on Score Draw's take on the home shirt from 1994. It comes in a claret colourway with blue stripes, a two-button placket with a spread collar and short sleeves.
On the road or watching from home? Get the matching 1994 away shirt. It comes in a green, black, and red striped design and has a 90s style collar with short sleeves. Both shirts are crafted with a smooth poly fabric and are signed off with the Müller sponsor and club crest to the chest. Show your passion with shirts from the '80s and more styles from the '90s.
Emile Heskey made his mark with this home shirt in '97, and now you can make yours too, be it at footy training or the King Power stadium. It lands in a blue colourway and has a V-neckline with short sleeves that feature white detailing to elevate the look. Like the original, this replica has the "Walkers" sponsor to the front and the Leicester City badge to the chest. There are more Foxes shirts from past seasons here.
Let people know who it is you're backin' with a Wolverhampton Wanderers home and away shirt from the archives. The home shirt from 1992 has Wolves' Gold colourway with a sublimated design that features the club crest throughout. The away shirt matches the same template but comes in a light blue.
Each shirt is made from a lightweight, breathable poly fabric for all-day comfort and has a two-button placket with a spread collar and short sleeves. Mimicking the original, these shirts have the "Goodyear" sponsor and team badge to the chest. Want to look the part the next time you're at the Molinuex? Browse all things Wolves here, including more retro shirts.
Northern Nostalgia
Amp up your support for The Toffees with remakes of the 1990 home and away shirt. Tony Cottee led the line at Goodison in Everton's famous blue, now you can do the same when you're ballin'. It has an all-over print with a button placket collar and short sleeves for a timeless design.
When playing away from home, Everton donned a yellow shirt that had an eye-catching blue pattern across the torso. It stood out then, and the modern version stands out now. Like the home shirt, it's signed off with the "NEC" sponsor and the badge that was found on the original. We've got stacks of retro Everton shirts, add them to your rotation today.
Fanatical about Leeds United and want to show your pride? Then what better way than owning the reproduced home and away shirt worn the year Leeds won the first division? Made using a comfortable poly fabric, both shirts have a button placket collar and short sleeves for an era defining style.
The home shirt comes in a white colourway with the away shirt in yellow. With subtle tonal graphics to both, they're finished up with the "Yorkshire Evening Post" sponsor and club badge to the chest. There are more designs to enjoy, treat yourself here.
Maine Road was full of fond memories for the blue side of Manchester, and in 1992, it was home to a smart home shirt. You can bag a modern version of the original. It has the same sky-blue colourway with a tonal graphic throughout as well as a button placket and spread collar. Finished with the "Brother" sponsor and team badge to the chest.
Manchester City gave football arguably one of the greatest away shirts in 1999. Worn by club legend, Shaun Goater, this shirt has a black and yellow striped design with blue detailing to give it cult classic status. Bring back a bit of history the next time you're at the Etihad by snappin' up the replica. There are loads of other retro styles, have a look here.
At St. James' Park in 1996, Les Ferdinand was banging in the goals, David Ginola was turning defenders inside out, and Newcastle United had a home and away shirt for the ages. The bad news for fans of the toon is that they finished second that season. The good news is that you can pick up a new version of the 1996 home shirt. It has the Magpies' black and white stripes, a four-button placket, and loose-fitting short sleeves.
Want more good news? You can double up and cop the 1996 away shirt. It comes in red and blue horizontal striped design and has the same four-button placket as the home shirt. What makes this shirt so popular amongst fans of Newcastle is the sponsor emblazoned to the front of both shirts; "Newcastle Brown Ale". For everyday wear, these shirts are built with a lightweight, smooth poly fabric and have the club badge to the chest. Scroll through more shirts from the past here.
We don't just have retro shirts for Premier League clubs. If you're a fan of Serie A, we've got a range of replica AC Milan and Inter Milan shirts. There is also a choice of shirts for Glasgow's green and white, Celtic.
Get following @JDFootball for all the latest news and exclusive content.
Next Article
JD SPORTS | May 16, 2023
Pre Order: Northern Ireland Women's Home Kit