In defeating the Dallas Mavericks 109-97 at The Center, the Philadelphia 76ers won their 14th consecutive game. A streak that has equalled an in-season franchise record set by the likes of Julius Erving (Dr J), Moses Malone and the rest of the Sixers' 1982-83 championship winning team.
As their best player, Joel Embiid, continued his recovery from surgery (a repair of his left orbital fracture – likely to return for the second round of the play-offs), their Rookie of the Year contender Ben Simmons has helped steer the Sixers to their 50th win of the year, just two years after finishing with a 10-72 record.
The last time the Sixers recorded 50 wins in the regular season? Allen Iverson's MVP season in 2000-01 team, which made it all the way to the finals, before losing out to a prime Shaq and young Kobe at the LA Lakers.
Last week, Dr J was honoured with a statue outside Philadelphia's practice facility, and the two-time NBA MVP lauded Simmons' ability.
"Once-in-a-decade, maybe once-in-a-lifetime-type player," Erving said of the Sixer's playmaker. "He's able to make everybody better."
"Sometimes it looks like he's got eyes in the back of his head, because he sees and feels one of his guys making a run to the hoop or spotting up at certain positions. That's just a gifted player that we are very fortunate to have on our team."
The Australian point-guard became the first player to average a triple-double (14.7 points, 10.1 rebounds, and 10.9 assists) during a 14-game winning streak, the previous 'record' was set by Oscar Robertson. The 'Big O' had averaged a triple-double for the Cincinnati Royals, during their 12-game win streak back in 1964.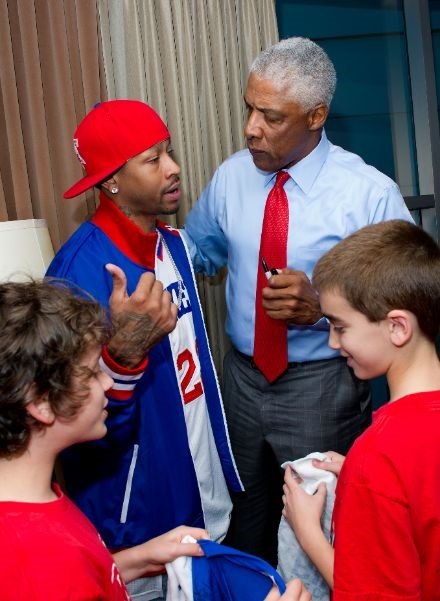 At 6ft 10, no point-guard in NBA history has been as tall as Simmons, giving him the same advantages that Magic Johnson and point-forward LeBron James have; that extra passing lane over the opposing defender's head.
"I told y'all a while back that my young King was next in line!" James tweeted about the rookie he has since dubbed the "Fresh Prince."
Last Friday (6 April), the two players put on a show in front of the Philadelphia crowd, in which both recorded triple-doubles. Simmons (27pts, 15rebs, 13ast) led the hosts to a 30-point first-half lead, which LeBron (44pts, 11rebs, 11ast) fell just short of helping his team overcome, as the Sixers held on for a 132-130 win.
That victory helped the Sixers leapfrog the Cavs into the Eastern Conference's third seed. And alongside the recent news that Kyrie Irving has been ruled of the Boston Celtics' post season, the Sixers appear to be the biggest threat to the Cleveland Cavaliers making it to their fourth straight NBA Finals.
Next Article
JD WOMEN | May 10, 2018
Your Summer Wardrobe – Sorted!