On Sunday, 10 June 2018, four days before England take on the world's best in Russia, Soccer Aid will return to Old Trafford, where an England select XI will take on a Soccer Aid World XI in a charity football match.
Bringing together some of football's finest legends mixed with celebrities, sprinter phenom Usain Bolt will pick up the baton to captain the Soccer Aid World XI side to challenge Robbie Williams' England select XI.
Bolt, a life-long Manchester United fan, will be able to count on his team's iconic forward Eric Cantona, who has announced his return home for the fundraiser showpiece event.
JD Sports are an official partner of Soccer Aid 2018, and are proud to support the effort, which uses sport to make a difference to disadvantaged children around the world.
THE KING RETURNS HOME
In the previous six matches, England have the edge, having lost just twice and winning on four occasions, including the last fixture in 2016 when Jermain Defoe came off the bench to score a brace in England's 3-2 victory.
Soccer Aid's World XI team might feel like the home side on this occasion, however, as Eric 'The King' Cantona returns to the 'Theatre of Dreams' where he was immortalised by the Manchester United faithful for his decisive goals, performances, and flair, as well as nurturing the Fergie fledglings.
"There is no place like home. Knowing I am coming back to Old Trafford is a special feeling and I am looking forward to seeing the stands full of familiar faces," Cantona said.
"My message is this: Soccer Aid for Unicef is a game like no other because of the support you give it. I am coming back to make the June 10th match the best ever and I want you to join me. Let's make history together at Old Trafford again one last time."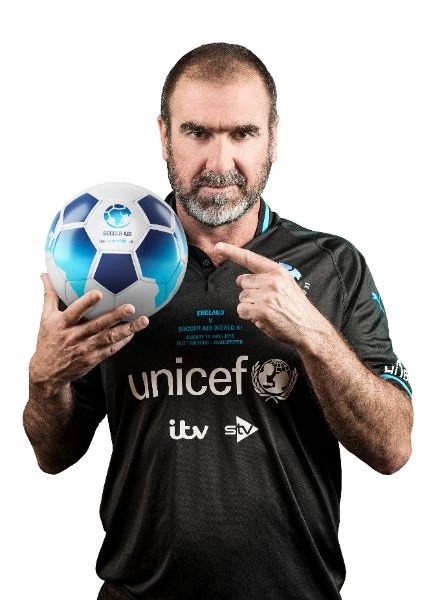 PLAYERS ANNOUNCED
England Select XI Squad: Robbie Williams (C), Sir Mo Farah, Olly Murs, Joe Wicks, Mark Wright, Paddy McGuinness, Damian Lewis, Myles Stephenson, David Seaman, Wes Brown, Phil Neville, Jamie Redknapp, Danny Murphy, Robbie Fowler, Michael Owen.
Soccer Aid World XI Squad: Usain Bolt (C), Gordon Ramsay, Brendan Cole, Kevin Pietersen, Dan Carter, Ashley Fongho, Edwin van der Sar, Jaap Stam, Clarence Seedorf, Yaya Touré, Robert Pirès, Patrick Kluivert, Eric Cantona.
TICKETS & FUND RAISING
Tickets for the Soccer Aid match at Old Trafford on Sunday, 10 June 2018, are available at www.manutd.com/socceraid or by calling 0161 444 2018, with calls charged at the local rate. Prices will range from £20 to £50 for adults, with under 16's priced at £10 and half price on all seats for over 65's.
The UK Government will match every £1 donated by the public through its UK Aid Match scheme, doubling the difference for children in danger around the world.
To date, Soccer Aid has raised over £24million for children's charity Unicef (in six matches over 12 years), and 2018's game will support the charity's vital work for children in Swaziland and Lesotho. To donate to Soccer Aid for Unicef – and receive UK Aid Match – please visit: http://www.unicef.org.uk/donate/socceraid-for-unicef.
Next Article
JD WOMEN | March 15, 2019
The Blogger Edit – Ya Summer Wardrobe is Here…