Gettin' you ready for the Christmas season, we've been lookin at THE best Christmas Markets from across Europe. From fairy lights and unlimited chocolate, to too many carbs and that winter weather, what is there not to love about a festive trip to the markets?
Take a look at our faves and add them to your travel wishlist!
Bath, UK
In the heart of the British countryside, Bath's Christmas markets has traditional wooden stalls with over 80% of their choccies and other treats coming from the South West. They've got over 170 stalls selling everything from sweet treats and winter warmers, to crimbo decorations and even cheese.
Tip: Remember to look up to see some seriously fab Christmas lights and some insane buildings.
Dates: 22nd November to 9Th December
(Photo Credit: @bathchristmasmarket)
Prague, Czech Republic
A must-see festive wonderland, Prague in the Czech Republic is delivering some SERIOUS winter vibes with their Christmas markets. Lighting up the city and bringing all the tourists and locals out in force, Prague's markets are brightly decorated, full of food and (fingers crossed) topped with snow.
Tip: Each year the markets get given a theme, which is to be announced later on in December. Check it out before you go and see what you're in for!
Dates: 1st December to 6th January
(Photo credit: @cityofprague)
Brussels, Belgium
Comin' at ya with cobbled streets and rows and rows of lights, it's gonna feel like you're in your own fairy tale when you visit the Plaisirs d'Hiver (Winter Wonders) in Brussels. The traditional market stalls, unlimited supply of Belgian chocolate and huge ice rink are ready to make your weekend away a winter wonderland.
Tip: Make sure you give yourself enough time to see the markets in the day and at night – or just spend all your time there and never leave! Simple! Try one of the Christmas toffee apples covered in chocolate and sweet sticky glaze. And OF COURSE – get ya'self some Belgian chocolate!
Dates: 30th November to 6th January
(Photo Credit: @plaisirshiver)
Manchester, UK
A little closer to home but still givin' you some seriously 'grammable scenes, Manchester's Christmas markets are a true Northern delight. With rows of huts and the unmissable big Santa in Albert Square, you'll have a merry little crimbo at these markets.
Grab yourself some hot chocolate, take a look at all the little wooden stalls and then pretend you can ice skate on the rink.
Tip: Start your visit in St Anne's Square and then make your way up to Albert Square to see the illuminated Santa. Make sure you've got ya winter warmers on!
Dates: November 9th to December 22nd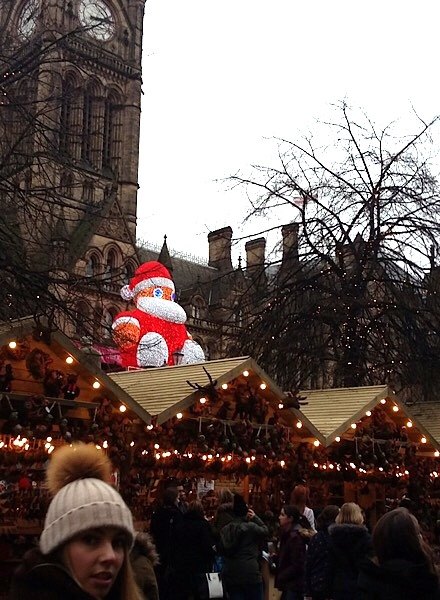 Tallinn, Estonia
For something truly out of this world, you have to get ya self to Tallinn in Estonia. Not only are their Christmas markets UNREAL!! they usually get a sprinkling of snow that makes their winter wonderland even better. Also known as a destination where can see the Northern Lights, Estonia is a must-visit at Christmas time.
Tip: You won't be able to miss the star of this show – The HUGE Christmas tree in the centre of the markets, which the locals have been setting up each Christmas outside the town hall since 1441!
Dates: 16th November to 7th January
(Photo Credit: @visitestonia)
It's never too early for a Christmas market! What're you waiting for? Get in the festive spirit!
Next Article
JD WOMEN | November 7, 2023
Return of the Dad Shoe: New Balance 608