From this morning, our stores in England are officially back open – we've missed you!
To celebrate being back, we're taking a look back at some of our BIGGEST celeb store visits from the past few years…From events to competitions, JD stores have hosted some of the biggest names in music, sport and more.
Recognise this lot? Yeah ya do!
For adidas Originals' EQT launch, we teamed up with British rapper, Stormzy to celebrate the 3-Stripes. A group of lucky competition winners got the chance to join Stormzy and hop on the Merky Bus Tour round London, before a secret gig in the evening. What's essential before a gig? Fresh kicks. Stormzy hit up JD's Oxford Street store to pick up all things EQT.
Seen 'Outside the Box' before? Outside the Box is THE series where we talk everything trainers, musicians and the culture that surrounds them both. Back in 2017, rapper, MC, singer and presenter Big Narstie joined us in store for an episode all about Nike's latest innovation at the time; the Air VaporMax.
Throw it back to season 1 of our 'In the Duffle Bag' podcast and not only did we get the inside scoop on our guy AJ, the episode was recorded LIVE from JD's Oxford Street. The first ep to have a live audience, the crowd was host to 150 JDX members, as well as the likes of Love Islanders Laura Anderson and Mike Griffiths on the guest list.
Not just hitting up our stores in the UK! Anne-Marie took over JD in Cologne, Germany for an exclusive, intimate gig with lucky fans. Dressed in all things Ellesse, the singer-songwriter did a meet and greet, as well as performing some of her iconic hits.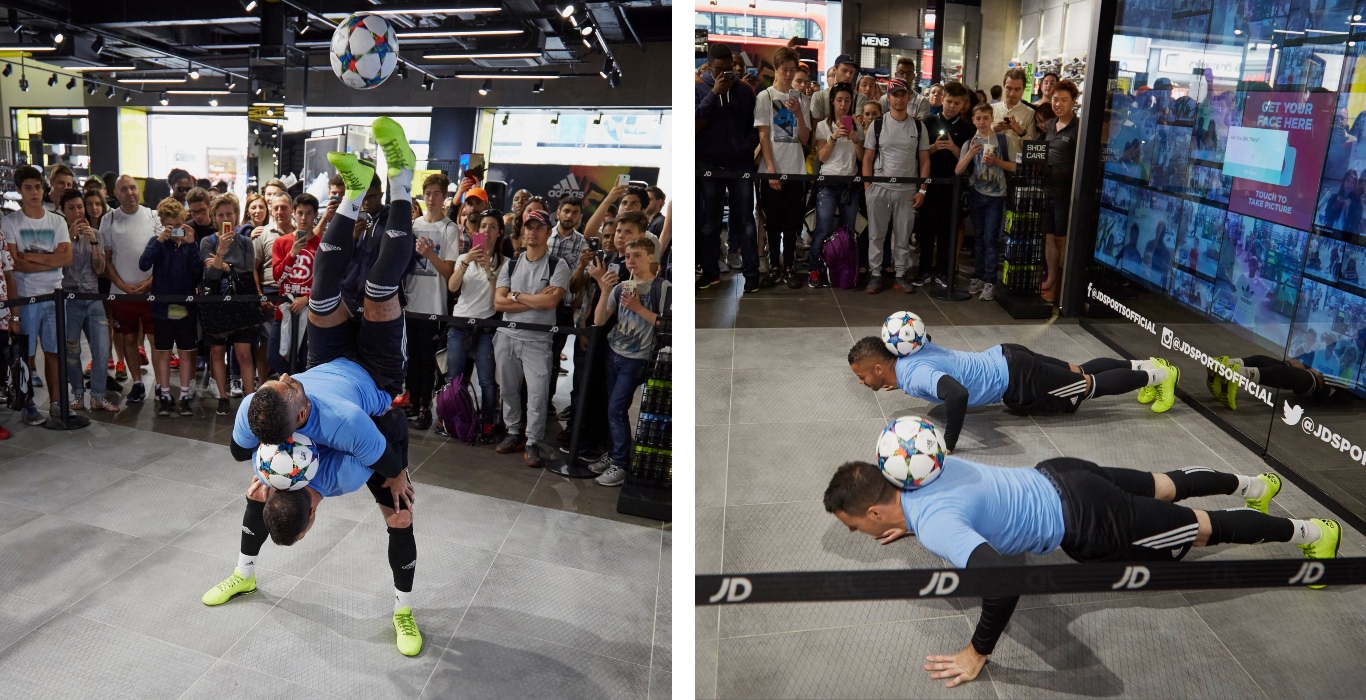 The F2 Freestylers have hit up JD stores more than once! Back in 2015, Youtube icons Billy and Jeremy performed at the Oxford flagship store to celebrate it's opening. Since then, they visited us over at the Bluewater Shopping Centre for a new drop from Rascal. With a meet and greet and a challenge area for dancing and football skills, the F2 took on some of you guys and showed us what they're made of.
With all of this plus LOADS more, watch this space for some more MEGA events and competitions. We're looking forward to seeing you back in store!
Find your local store's opening times over on the store locator. Did you know that some stores are opening for 24 hours today only? Check it out!
Next Article
JD OFFICIAL | October 25, 2023
New to JD: Banlieue