New year, new you? Or maybe you're just over not being able to fit in your fave pair of jeans anymore. Whatever your motivation, we're bringing you the top new year fat burners to kick start the year off right!
Coming for everyone of all fitness levels and ages, these fat burning exercises are here to get you reachin' your goals. Ready?
Rope Wave
Whether you've heard about the benefits or seen the Kardash-queens smashing it on Snapchat, the Rope Wave is undeniably one of the best ways to burn fat while building muscle.
This workout engages the whole body, working your muscles from the strength of your hands to the stability of your feet. Blast targeted fat, while sculpting your upper arms, core and back.
How to do it?
Start in a comfy squat position and hold the end of the ropes firmly at arm's length. Raise your arms in a fast,  alternating motion and slam the ropes to the ground. Continue this exercise for four sets of 1 – 2 minutes and increase time if you feel you can…
Mountain Climbers
Fire up your gym sesh with an exercise that works nearly every muscle group. Perf' for burning fat on your core, biceps, hips and quads, mountain climbers combine building strength and burning calories and are a serious way to get your body pumped.
How to do it?
Mountain climbers are pretty much what it says on the tin, just stationary. Begin in the plank position and keep your body straight and muscles tense. Pull your right knee up to your chest, then quickly pull the left up while you push the first back down. Repeat this motion as quickly (and safely) as possible for 5 reps of 30.
Wanna step this one up? Rest your hands on a weighted ball to test your balance and strength.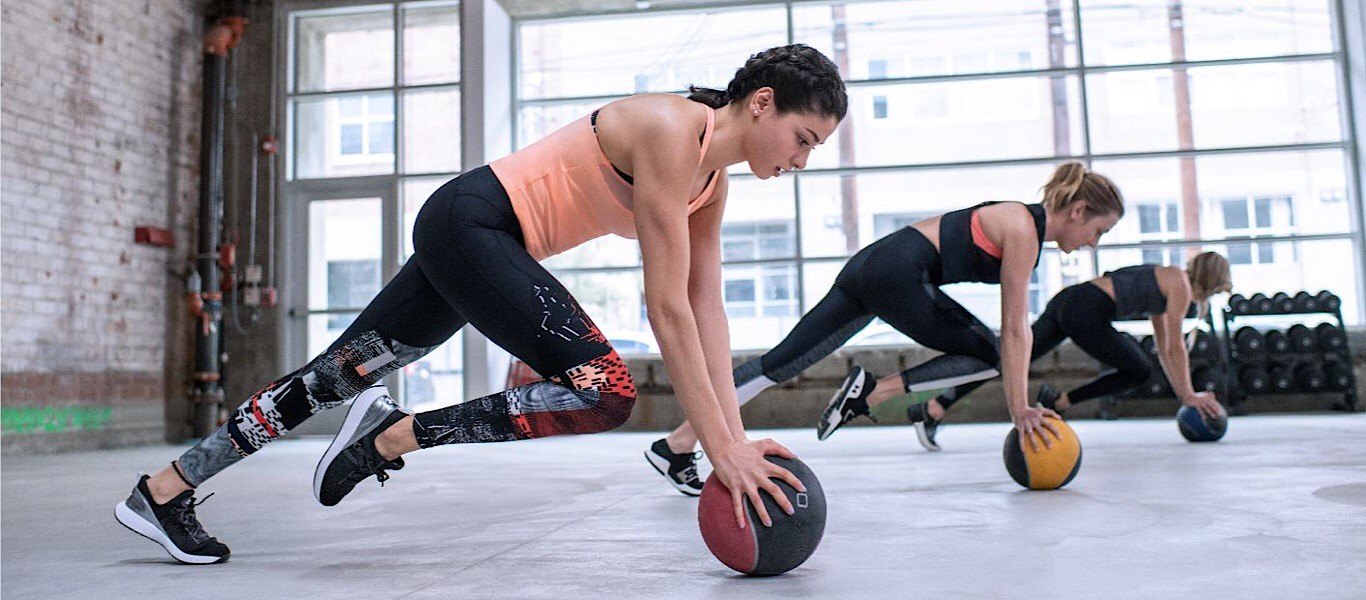 Hip Raises
Wanna get that booty workin'? Hip raises are one of the best exercises to get those glutes going! Targeting both your glutes and your core, hip raises help to slim down your waist, hips and thighs to get a more sculpted figure, while building lean muscle to boost the rest of your workout.
How to do it?
To get going, start by lying flat on your back with your knees bent and arms by your side. Raise your hips so your body is level from your shoulders to your knees. Wait 5 seconds, squeezing your muscles tight, and repeat for 5 rounds of 10 raises.
Fancy steppin' it up a little? Rest a weight on your hips (supported by your hands) and alternate reps with and without for a rest in between. Not only are hip raises a key exercise to include as part of your gym routine, they're a fab way to start your sesh by warming up your muscles, ready for the rest of your workout.
Skipping
As old school as it sounds, skipping is proven to be one of the best core workouts! Used as a go-to warm-up technique most famously in boxing (check out AJ showing us how it's done), skipping increases the heart rate and burns fat in both the upper and lower body.
As well as serving as a beneficial workout, it also helps balance and coordination. For maximum benefits, jump with both feet at once and keep it as a fluid movement for as long as you can – push your limits!
Fancy upgrading your gym'drobe and smashing these fat burners in style? Check out our latest fitness clothing on site RN for a look as strong as you are! ?
Next Article
JD OFFICIAL | May 16, 2023
New to JD: Nike Zoom 2K