You've carved your first pumpkin and stocked up on a mass amount of sweets – Halloween is officially here ? ?
While there's nothing wrong with a classic skeleton or cute cat, they been rinsed each year and you might wanna switch things up. So, if you're currently wondering 'what should I be for Halloween?' – we've got good news for you girl. We've has rounded up the most bad ass costumes to give you plenty of options for fright night.
Eleven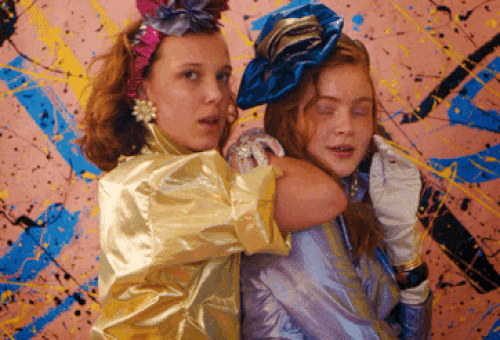 Halloween and Stranger Things go together like Eggos and Eleven. She's got psychic powers and major out of this world abilities, what's not to love? Creepy, cool and nostalgic, Stranger Things is packed with inspo. In the latest season, Eleven was all about loud patterns and wavy hair. For an '80s look, rock Eleven's full 'fit and epic high pony in a scrunchie – need some retro runner inspo? Trust us, we've got you covered. Friends don't lie, remember?
Wednesday Addams
First things first, forget how to smile. Your teeth are now in hiding, it's time to be very, very moody. Wednesday Addams', plaits n'all, reps the effortlessly goth look with her fierce individuality and dark, dry sense of humour. With goth being the general mood for winter (banish the fake tan), she is a Halloween icon and hero and you should honour her as just that. Or else.
Daenerys GOT
Daenerys, mother of dragons, breaker of Chains and incredible dresser, has slayed the fashion game since SZN 1. This white-haired queen switched up her 'fits with draping capes, dragon scaled prints and pleated numbers showing her regal status. Who doesn't wanna look like a Queen?
Joker
The unhinged super villain that's misunderstood by society, the Joker is a perfect mixture of mysterious and creepy. This character has its own history and own unique voice, making it the OG of Halloween spirit. No doubt we all have a lil bit of crazy inside of us, so why not channel it this Halloween?
Sabrina
Grab inspo from one (of many) thrilling additions to our screens this year: Chilling Adventures of Sabrina. Casually fighting demons, evil forces and saving humans, she embodies true Halloween spirit. Bringin' allll the spell-binding drama to your screens, it's the perf' opportunity to embrace your cult side and serve witchin' looks for the spooky season. No broomstick required.
Step to the dark side this Halloween and thrill with your killer looks! ?
Next Article
JD WOMEN | October 16, 2023
Rethinking Waste: Converse Renew is Back!