We've said it. Summer is officially here!
For Summer 2022 we are bringin' the HEAT 🔥 🔥. We've partnered once again with Ibiza Rocks and we'll be bringin' you exclusive Ibiza inspo allllll Summer long.
First up, the Opening Party…
Summer Starts Now
Last weekend, we packed our suitcases, stepped into our slides and jetted off to Ibiza for the ultimate Opening Party. With stacks of MEGA events in Ibiza Rocks' calendar over the Summer, the Opening Party set the bar for what's to come…and didn't it deliver! 🙌
Joining us on the trip, we linked up with some of our fave faces; Megan (@meganowelsh), Jay (@jaymunro26), Molly (@molly.mcfarlane), Zak (@zakyeah), Miche (@michemingg) and Demi (@missdemsxo).
Day 1 ☝️
To start the weekend, we hit up Cala Bassa beach and with views for daaaays it was the ultimate insta spot. Dressed in the latest Summer heat from Nike, Levi's, The North Face and Hoodrich, the JD crew were showin' everyone exactly how it's done this season.
The Opening Party was callin'! Lasting from day-to-night, the Ibiza Rocks Opening Pool Party went OFF! Imagine everythin' from house and disco, to mega dance anthems, all under the Spanish sun. The gang partied to the hotel's resident DJs, plus big names like Nathan Dawe, Lovely Laura & Ben Santiago, Ziezie and Emily Nash.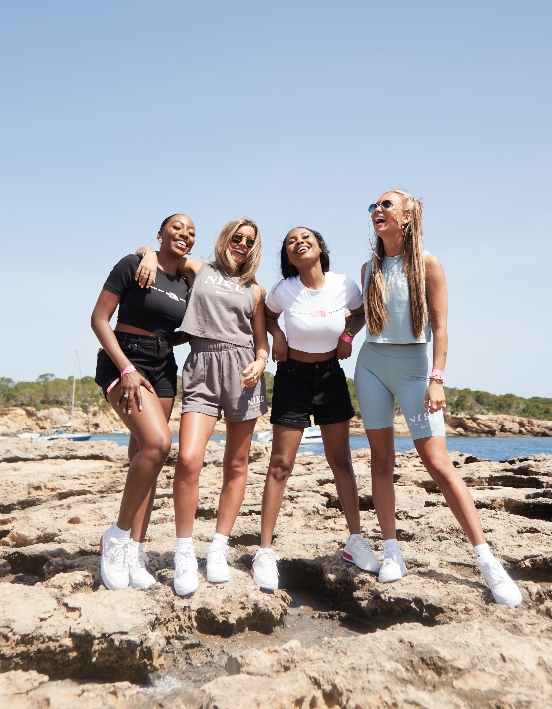 Day 2 ✌️
With the Summer feels officially turned up, we were ready to say namaste to day 2! After partying the night before, what better way to start the day than with a yoga session.
But this wasn't just any yoga class. This was yoga, Ibiza style! We headed over to Cala Comte for an exclusive class with health guru, Jamie Walsh (@jamielouwellness). In an outta' this world cave location with views over the sea, we stretched, lunged and posed until it was time for brunch!
Cue more amazing food. This time, we got our fill from boutique hotel and iconic spot, Wi-Ki-Woo (@wikiwoo_ibiza). Combining wisteria-packed backdrops and all things pink, we filled up on everything from eggs and avo, to pancakes 😍
As the evening came around, it was time to hit up The Zoo Project at Ibiza Rocks. With another unforgettable soundtrack takin' us into the evening, we partied from our own private balcony. Just as mega as the first night!
We closed up the weekend Ibiza Rocks Bar, which sits right on the beachfront for the last of the sunshine vibes.
What a trip! Can we go back and do it all again already?!
With more exclusives from Ibiza still to come this Summer, stay locked into @jdofficial and @jdwomen to catch the latest! Hope to see ya there ☀️
Next Article
JD FOOTBALL | November 2, 2023
2021/22 Premier League Season Review