From beginners ready to ditch the treadmill, to hardcore runners determined to rack up the miles, finding the perfect route is super important. No more spending hours in the gym staring at a brick wall – this summer JD are gonna help you get outdoors, embrace the summer sun (whilst it lasts) and run wild in the UK's best run locations:
Urban Adventure – Manchester 7km Canal Run
Maxing out on street vibes and urban surroundings, city running is all about embracing your urban environment, getting to know the city and working up a sweat. Tackling city miles is easy to fit in around your schedule, they can show you all the trendiest short cuts, all while upping your confidence. This route in Manchester is no different!
Starting out in the heart of Manchester, this route takes you from the Spinningfields business district through the streets of Manchester towards the canal. You'll then be taking in the sights of some of Manchester's most historic streets along the canal side for a good 7km circuit stretch before bringing you back into the city centre.
Difficulty Rating: 3/10
Views: 6/10 (look out for some celebs near the BBC building)
Terrain: Road
Royal Run – Windsor Great Park and Castle 22km Run
One for the more experienced runners, this course takes you right past Queenie's bedroom window and into her front garden. Take in the royal views, put the pressure on those running shoes and work those legs to the max.
Hitting the ground running right outside Windsor Castle, head down towards Windsor Great Park taking in the sweet views of The Savill Garden and Virginia Water before heading back to the Castle for a selfie on the Queen's doorstep!
Difficulty Rating: 7/10
Views: 9/10 (If you love the Queen!)
Terrain: Road and Park paths
Getting Ya Thrills In The Seven Hills – Edinburgh 22.5KM Urban Exploring
Combining all your fave things – beaut urban buildings, hill runs and super sweet views means this run is the perfect Sunday funday! Covering a total of 22.5km with about 22,000 feet of hill climbing to do (crikey!) this one is an experienced runners dream test of stamina. You'll be flying past world famous Scottish landmarks including Blackford Hill and Arthurs Seat.
Take in the sweet Scottish views, grab yourself a deep fried mars bar and crack on!
Difficulty Rating: 8.5/10
Views: 8/10 (Like a rom-com film set!)
Terrain: Road and off road trail
Brummy Brilliant – Edgbaston Reservoir 5km
Just outside Birmingham city centre, the Edgbaston Reservoir is not just a bit of water full of ducks! This place is the ideal 5K route for beginners looking to improve their stability. Ditch the treadmill and get yourself to the reservoir and START THAT RUN!
Looping round the reservoir, this route tackles everything from dirt paths and gravel routes with a small amount of road running as well. In some scorching summer sun with a BBQ waiting at the end with picture perfect waterside views it's like a mini holiday, minus the constant need to run!
Difficulty Rating: 4/10
Views: 6/10 (if you like ducks you are in for a treat!)
Terrain: Gravel path and road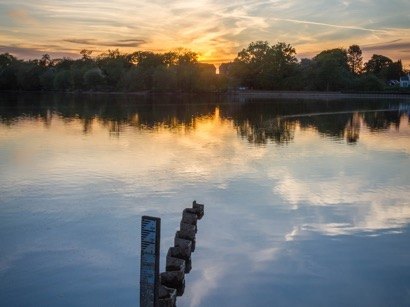 Off Roading To The Max! – The Cheesewring Cornwall 5km
Ready for some trail, deciding to get off the roads or looking for a country adventure? This one is for you!
Cornwall is known for its scenery, amazing landscapes and (hopefully) scorching weather. For this one, park up at the start, wack the running shoes on and set off towards the Hurlers stone circle before tackling the 103m hill climb and Cheesewring quarry. This route is taking you up to the top, showing off that beaut Cornish landscape and working up an appetite ready for some seriously nice pub grub!
Difficulty rating: 7/10
Views: 9/10 (dependent on the weather)
Terrain: Off roading to the max!
Are you ready to run your way to fun this summer? Waving bye to the treadmill has never been so easy! If you're feelin' motivated to get up, lace up and get going, check out our latest running trainers online at JD Sports.