This Saturday at the Manchester Arena, Conor Benn enters the ring with Chris van Heerden. Can the British brawler defend his WBA Continental welterweight title for a successive 7th time?
Some athletes struggle to escape their namesake's shadow. Conor Benn could have succumbed to the pressure of being the son of a boxing legend. Instead, he's learned to forge a new legacy of his own. He's made a name for himself through his own ability but continues to carry the torch of Nigel Benn.
Like Father Like Son
Naturally, Conor shares the same surname as his father. He also has a similar nickname when in the ring. Nigel was ferocious in his prime and was known as "The Dark Destroyer".  Equally as devastating when fighting, Conor goes by the alias of "The Destroyer". His record gives credence to this, a perfect record of 20 fights with no losses, 13 of those fights ended with Benn knocking out his opponent.
In 2018, Conor went toe-to-toe with Cedrick Peynaud for the vacant WBA Continental welterweight title. A unanimous decision landed Benn his first belt. Since then, he's had a vicelike grip on it and has defended it 6 times.
Dominant When Defending
Jussi Koivula was Benn's first challenger, he was dispatched within 2 via a technical knockout. Steve Jamoye suffered the same fate in the 4th round. Possibly Benn's toughest test came against Sebastian Formella. The German was a former IBO welterweight champion, and his only loss was dealt by the world-class Shawn Porter.
Conor Benn saw that another loss was added to Formella's record. Then came Samuel Vargas. The Columbian went the distance with Amir Khan, so wasn't without experience or courage. This didn't matter, Vargas was destroyed in 1 round.
Even with big names such as Adrien Broner, Shawn Porter and Danny Garcia on his resume, Adrian Granados failed to trouble the champion. It was a comfortable night for Benn. Could Chris Algieri, a former WBO junior welterweight champion, pose a threat to The Destroyer?
The American had been 12 rounds with the iconic Manny Pacquiao. His contest with Amir Khan went to the judges and he's battled with the undefeated and now world champion, Errol Spence Jr. With questions raised as to whether Benn is ready compete at world level, this bout could silence any doubters.
And silenced they were. Conor Benn knocked out Algieri in the 4th round with a right hand to the chin. Up next is Chris van Heerden, so, what do we know about the South African?
Too Hot To Handle?
"The Heat" has previously held the IBO welterweight title and has a total of 32 fights in his professional career. His record is 28 wins with 12 knockouts, only 2 losses, a draw and a no contest. Chris van Heerden has traded leather with the big boys of the division, he suffered his first stoppage against the elite Errol Spence Jr.
Following that fight, van Heerden earned the opportunity to challenge for the vacant IBO welterweight title. He faced off with Jarron Ennis, one of the biggest prospects in his weight class. Unfortunately for van Heerden, and boxing fans alike, The Heat couldn't continue after an accidental head clash.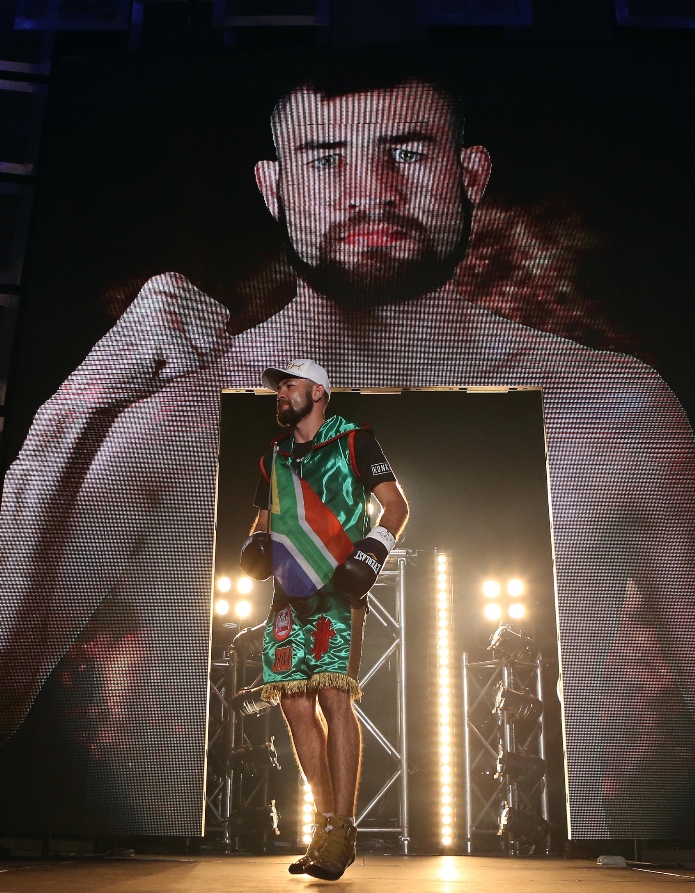 This could be Conor's hardest fight yet, van Heerden is a former champion who has fought at a level that arguably Benn is yet to. If he wins, will The Destroyer be in contention to mix it up with the top welterweights? Eddie Hearn has vowed, "if Conor Benn gets through Saturday night, you're gonna see him in a mega fight in the summer".
Will this mean a world title fight for the Brit? If so, he could be up against Terrence Crawford, Errol Spence Jr, Yordenis Ugas or Butaev. The more likely outcome for Benn would be a fight with a fellow world title contender.
After his controversial win over Jack Catterall, Josh Taylor, who had unified his division, said that he'd be moving up a weight class. If the Scotsman does make the change, that means he'd be sharing a division with Conor Benn. Is this the mega fight promoter Eddie Hearn has in mind? Or is it another domestic showdown with Kell Brook? One thing is for certain, a win for The Destroyer paves the way for many options.
The Undercard
There's a stacked undercard to get you revved up for main event. Chris Billiam-Smith takes on Tommy McCarthy for the second time with the EBU European cruiser title at stake. Alycia Baumgardner defends her world titles against Edith Matthysse and Campbell Hatton looks to extend his winning streak when he faces Lee Glover.
With plenty of fights to be excited about, make sure you're set for the undercard to start at 7:00pm. The main event is scheduled for 10:00pm, catch it on DAZN, you won't want to miss this.
Follow us on @JDSports for all the latest boxing news and other hard-hitting content.
Next Article
JD WOMEN | May 16, 2023
Retro Refresh from Juicy Couture