After being announced back in October, AJ returned to the ring last night and it was explosive!
Taking place at the The SSE Arena, Wembley, the delayed bout saw our guy, Unified world heavyweight champion Anthony Joshua knock out Bulgaria's Kubrat Pulev in the ninth round – with 1000 fans in attendance!
Joshua v Pulev
The fight saw the WBA (Super), IBF, WBO, and IBO champion return to home soil for his first fight since his defeat over Povetkin, back in September 2018.
Our champion floored Pulev not one, or two but four times, leading to a knockout victory in the ninth round! After a slow opener, the fight exploded into action by the third round, with AJ hammering Pulev with a series of punches. After going down twice, Pulev managed to survive the round and recover to his feet.
Pulev had some opportunities in round five, which brought back some confidence but by the seventh, Joshua was firing a whole load of uppercuts his way.
Lasting nine rounds, AJ ended the fight with a brutal right that put Pulev down for the count.
The #RoadToUndisputed Continues…
Now Joshua's defeated Pulev and retained his titles, the biggest fight in boxing history could definitely be on the cards; Joshua v Fury. Undefeated WBC Champion, Tyson Fury holds the only major belt outside of AJ's grip and in the aftermath of Saturday's fight, Joshua said he would welcome the bout.
"Whoever has the belts I want to compete with. If that is Tyson Fury, let it be Tyson Fury" Anthony Joshua
Time for Eddie Hearn to work his magic and get the undisputed fight officially on in 2021…
View this post on Instagram
JD Weighed-In Knockout Lounge
Ahead of the fight, we brought a few AJ fans together to watch back his classic fights in Knockout Lounge. With two eps, two big fights and a whole load of laughs, make sure you tune in!
In Ep 1, we got the JD fam including the likes of Joe Weller (@joeweller), Specs Gonzalez (@specsgonzalez), Grime Gran (@grimegran) and more, all taking the sofa to watch Anthony Joshua vs Alexander Povetkin.
In episode 2, the guys were back on the sofa to celebrate Christmas, get hyped for Joshua vs Pulev and enjoy one of, if not THE greatest ever night in the ring against Wladimir Klitschko at Wembley. Catch up and tune in now!
Anthony Joshua's #JDCHAMPSHONOURS
Ahead of Saturday's fight, AJ teamed up with us to launch his own Champs Honours list. And it's up to you to decide who makes the cut!
With 2020 being tough on so many, we want to celebrate the UK's youth – those that have been through a lot this year, but still came out fighting. Once the nominations are in, we'll release the list and AJ will reward each champ with a surprise visit/facetime and a shopping spree at their local JD store.
Got someone in mind that's been a real hero this year and deserves a shot at the title? Fill in the nomination form here. Each person that nominates someone will be entered into a draw to be in with a chance of winning a £1k JD Gift Card. ?
Smash It Like AJ on TikTok
It doesn't stop there! Stayed locked into TikTok where our new effect will be live on Wednesday, 16.12! We're giving you the chance to fight like a champ and smash it just like our guy, AJ.
Use the filter to punch and smash the screen in time with our track. And don't forget to check out the likes of @neffatibrothers, @jeremylynch, @kadymcdermott and loads more, who will be taking on the challenge once it's launched! Watch this space.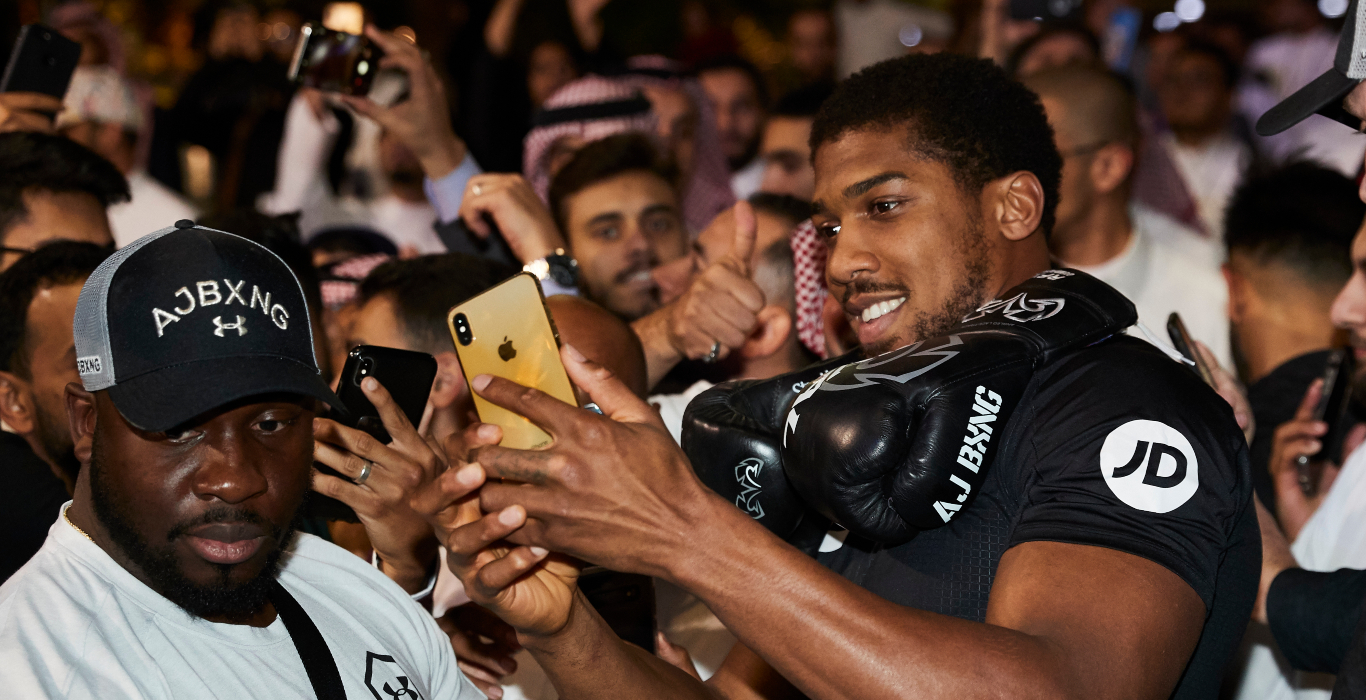 Celebrate AJ's victory on twitter by tweeting #RoadToUndisputed to unlock the official JD x AJ emoji.
Stay locked in to @jdsports for more on all things boxing!