Want trainers that switch things up and break away from the norm? Then you've gotta be coppin' some textured trainers!
Ditching' the usual uppers of leather or synthetic, textured trainers bring in fabrics that look and feel different – for a lightweight feel  and switched up style!
Wanna know more about the latest sneaker trend? Get ready for the run down of textured trainers and find out just how they got poppin'.
Textured from Tech
Textured trainers have only really gotten big in the past 10 years, so you might think the trend only started to pick up over the last decade…but you'd be wrong. ?
The idea of textured trainers originated as far back of the '80s – with Nike experimenting to create the Sock Runner. The problem was that these unique and lightweight uppers gave the trainer and your feet zero support – the tech simply wasn't there!!
Up until recently, trainers had always been made the same way, several pieces of material (usually leather and synthetics) stitched together to create a solid upper. Simple, effective. However, this approach created large amounts of cut off waste and restricted trainers to be a certain shape and weight.
Many trainer companies tried creating a way to reduce waste while givin' sneakers a next-level upgrade – enter the knitted upper!
After years of trying and failing, Nike and adidas were the first two brands to workout how to create uppers that were lightweight, breathable AND supportive. With Flyknit and Primeknit technology both debuting in 2012, it opened the door for uppers to change massively.
While the motivation was performance driven, the result brought sneakers that had a fresh look and feel – perfect for the streets.
Textured Trending
We've picked out some of the freshest sneakers that have used the development of knitted tech to create standout silhouettes.
If you wanna give your crep collection a refresh and catch up with a slow-burning trend, listen up!
adidas Ultra Boost 19
Using the tech that started the textured revolution, adidas' Ultra Boost 19 are the latest addition from the brand with the 3-Stripes. Ridin' on a responsive Boost midsole, these trainers have a Primeknit upper for a supportive and breathable feel, while synthetic overlays to the side and heel give you a locked-in fit that only adds to the statement silhouette.
Wanna' get some textured style that's 2019-ready? Check out the entire Ultra Boost 19 collection on site now.
The contrast of the knitted upper and synthetic overlays makes the sneakers standout, so you wanna rep some threads that are sleek and smooth to let your creps do the talkin'! Guys can rock a matchin' track pant and hoodie combo, while gals grab the complete look with a full tracksuit.
                                                                                     @shred_kelly
Nike Air VaporMax Flyknit
Turning to the ground-breaking tech from the Swoosh, the VaporMax Flyknit sits on a full-length VaporMax Air unit for a responsive ride that brings the feelin' of walkin' on Air! The latest Flyknit upper brings a sleek look that keeps your feet cool, while a synthetic heel support and ribbed collar add a locked-in fit.
Like the Swoosh style? Check out the latest VaporMax Flyknit silhouettes!
With the Flyknit coming in tonal and two-tone designs, it gives you the chance to match up your 'fits for the complete look. For the guys, get street ready with a sweatshirt or hoodie matched with some joggers, or go sporty like the gals with leggings and a tank top. Off-duty style with a textured edge!
adidas Originals Deerupt
Changin' gears, maybe you wanna go bold with your textured trainers? Disrupt the norm? Then you've gotta check out the Deerupts from adidas Originals. Bringin' retro style mixed with future tech to your sneaks, these trainers are made with a breathable textile upper that's taken to the next level with a mesh overlay! Sat on a responsive midsole and coming with lacing woven through the mesh, these sneakers are sure to turn heads.
Wanna get disruptive? Cop the Deerupt in a range of colourways!
With the Deerupt you've got two options: keep the look simple and let the sneakers shine or get the whole 'fit lookin' disruptive with contrasting designs. Guys like to keep things sleek with smooth track pants matched with a tee, while gals can go for bold, retro track pants with poppers and 3-Stripes to make a statement.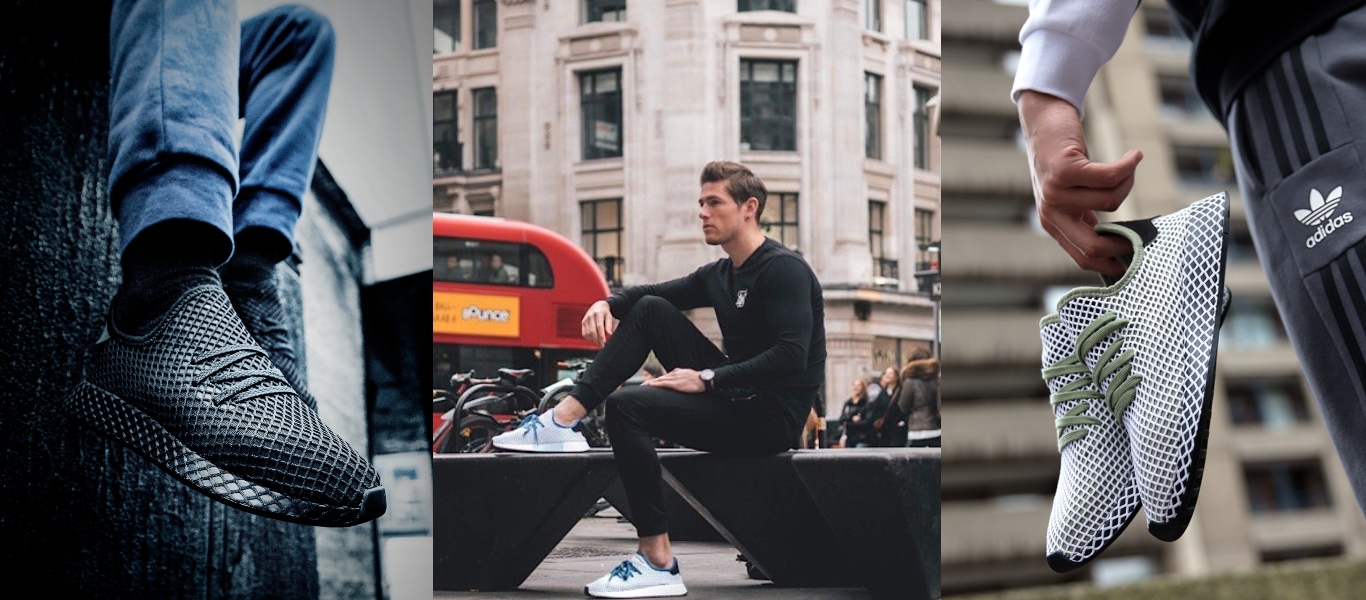 @finnerz.uk
Under Armour Charged Rogue
Textured tech was created because of a desire for performance, so why not take things back to basics with the Charged Rogue sneakers from Under Armour? Sat on Under Armour's Charged cushioning, these creps give you essential energy return, whether you're on the streets or the treadmill. Coming with an engineered mesh upper with a synthetic heel counter, they keep your feet fresh, cool and stylin'
Wanna update your active creps? Grab some freshness with the Charged Rogue sneaks!
When it comes to the active look its pretty simple, rep threads you can be active in…duh! Guys can grab a tech heavy tee with track pants or shorts from the latest UA fitness collection, while gals might wanna can nail the athleisure trend with fitness 'fits.
Wanna find out more about the latest trainer trends? Peak the hottest sneaker trends for 2019 on the JD blog!
Next Article
JD OFFICIAL | October 23, 2023
Get Weekend Ready with Krystal Roxx