Amir Khan made a blistering return to the ring, as he stopped Phil Lo Greco inside 40 seconds in front of a sold-out Echo Arena in Liverpool.
Khan, 31, had warned Lo Greco that he was at his 'peak' and in better condition than when he last fought Canelo Álvarez two years ago and demonstrated just that.
Less than 15 seconds into the bout, Lo Greco had been dropped by the Bolton born fighter, who came out on the front foot with a sense of purpose.
Khan followed up a quick left-right combination, with the same, and caught the Canadian flush in the temple with his right hand. Lo Greco jumped straight back to his feet and gave a wry smile to suggest he was ok.  But within eight seconds of being checked by the referee, Lo Greco's night was over.
A rapid flurry of punches from Khan had his opponent in a world of trouble, before a straight left-hand rocked the Canadian's head back, and sent him into the ropes and onto the canvas.
Khan's British rival, Kell Brook, who made his own impressive comeback against Sergey Rabchenko, was ringside to watch Khan's explosive return.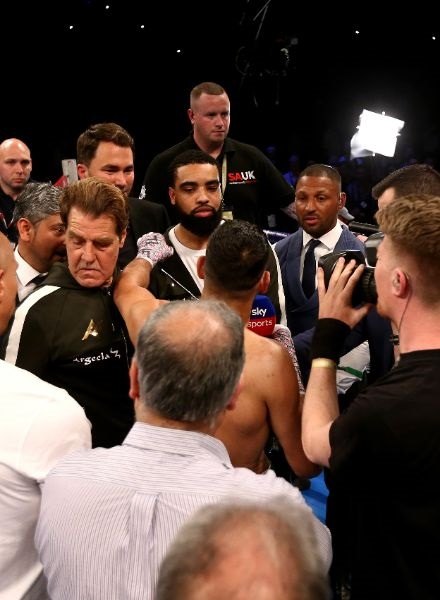 Following the announcement of the result, the 'Special One' entered the ring to confront Khan, who addressed a potential contest with Brook.
"The weight is an issue, I'm a 147 lbs fighter, I moved up for this fight at 150 lbs because, obviously, I've not been in a ring for two years," Khan said.
"That fight is something I'm not rushing for and not running away from. I will fight Kell Brook and I will beat Kell Brook if it comes down to it, and the world knows. I'm a better fighter and a stronger fighter. Kell Brook's been living off my name."
Brook responded by telling Khan that it's a fight that he and the fans want.
"I'm not a fighter to run away, Kell," Khan retorted. "I came to Eddie (Hearn) and signed a deal with your promotion company, I've got closer to you, so I'm chasing you, remember that."
---
Click here to check out JD's boxing range!