You've seen the teaser, you've met the squad, now all that's left to do is shop the gear! New Pink Soda Sport is officially here and we are crushing on alllll the new looks.
If you're queen of comf and needin' new workout 'fits, then girl we have you covered (as always!). From sports bras to leggings, including super cute co-ords, the latest drop has everything you need to upgrade your gym'drobe. Stay locked in for a low-down of the new gear…
Nothin' says New Year motivation like new gym 'fits. Better still? The latest collection not only covers your workouts, but can be slaaayed straight into your day. Did someone say brunch? ?
Showing you how to work the looks is the ultimate babe squad, Jena Frumes (@jenafrumes), Amber Jepson (@amberjepson), Daisey O'Donnell (@daiseyodonnell) and her sis, Ellie (@missellie_o).
The Collection
Fits for the Gym…
Steal Amber and Jena's style with this matching PSS set. Wearing the Fitness Tights and Arden Panel Sports Bra, these gals are werkin' it in black, with pops of colour adding a sporty look. Nail the layer game and throw on the Honour Super Crop Hoodie – a cosy add-on for making your way to and from the gym!
Black is always on trend and the O'Donnell sisters are absolute goals in their Pink Soda get up! The perfect pieces to mix n' match, check out the Core Sports Bra and Core Mesh Crop T-Shirt. Super comfy and suuuper flattering, yas plz!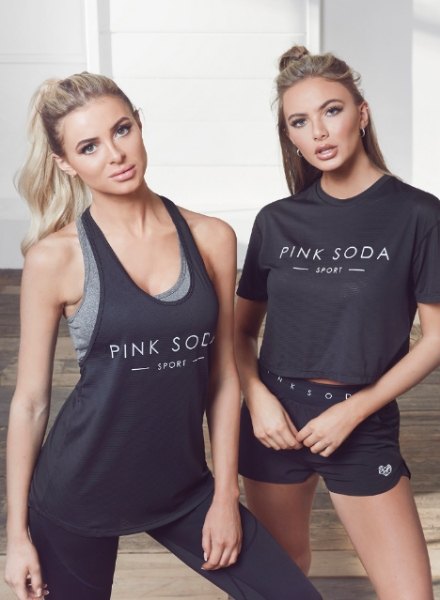 If you wanna turn heads, the Taped set is gonna' be your gym bestie. In a bold red colourway, this set features these fire Tape Fitness Tights, the Tape Bra and a 1/2 Zip Top, which you can use for outdoor workouts, or just as a warm up layer! With Pink Soda Sport taping making a big statement, everyone's gonna know you're reppin' JD-exclusive style.
Fits for Chillin'…
For extra comf on rest days, Pink Soda Sport's new drop is the one. If you wanna be chill goals, keep it casj like the O'Donnell sisters. For Daisey's look, check out the Suki Mesh Leggings and the Colour Block Crew Sweatshirt, giving you all the cosy vibes. And if you wanna steal Ellie's co-ord style, grab the Panel Crop Hoodie and matching Colour Block Leggings.
Not seen enough? Shop the entire collection on site RN ?
Next Article

JD OFFICIAL | October 18, 2023
Outside the Box: Cadet & Specs Gonzalez